Rachelim colonists burn 150 olive trees down in Nablus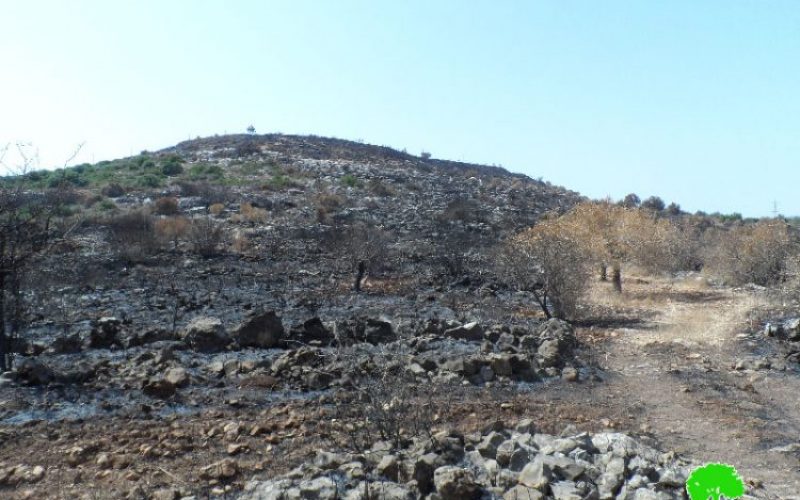 Violation: torching trees
Location: Al-Sawiya village- Nablus
Date: June 26, 2016
Perpetrators: Rechelim colonists
Victims: forty farmers from the village
Details:
A group of fanatic colonists from Rechelim colony on June 26, 2016 intentionally set fire to the eastern side of Al-Sawiya village to destroy lands and olive sector of the area. It should be marked that colonists set fire to random spots in the location, which helped spread the fire quickly to reach out vast area in the natural blocks number (7 and 2) also known as " kaffit Al-Wi'ir". Noteworthy, dryness of hay and high temperature played a role in spreading the fire all over the area.
The chairman of Al-Sawiya village council, Abdelraheem Suliman, told Land Research Center the following: " Israeli Occupation Forces intended to hinder Palestinian Fire Brigade from reaching the area for three hours on the claim of "Maintaining colonists' security. Big number of farmers rushed to extinguish the fire with basic means while the occupation troops were watching in silence"
Photos 1-5: the burned down lands
According to the date of Al-Sawiya village council, fire totally destroyed 150 olive trees that belong to 40 farmers from the area.
Provocative acts:
Colonists violations, of which trees torching are meant to harass Palestinian farmers and to strike the agriculture sector. Throughout the past ten years, hundreds of colonial violations and attacks on nature and agriculture sector were documented.
Until now, colonists have not been legally incriminated; their actions are ignored and given the deaf ear. Palestinian complaints to Israel police are never considered. This caused vast areas to get burned down and others to be taken over by colonists for colonial purposes.
About AL-Sawiya:
20km to the south of Nablus city, the village's built-up area is 340 dunums compared to only 50 dunums back in 1967. The expansion happened in 1993 and stopped ever since due to the occupation's measures.
The village's total land area is 11380 dunums; it is edged by the lands of different villages namely (Al-Lubban Al-Sharqiya, Qaryut, Talfit, Qabalan, Yasuf and Iskaka). More than 3000 dunums of the village's lands are cultivated with grains, vegetables and olive trees.
Al-Sawiya is seen as a hotspot for the occupation attacks; more than 65 agricultural and residential structures in the village are notified of either stop-work or demolition by the Planning and Construction Committee- Israel Civil Administration. It is reported that 32% of Al-Sawiya total area is subject for colonial activities. The colony of Rechelim is founded on the northern part of the village where Eli colony is there from the east.
Prepared by
The Land Research Center
LRC