Israeli Occupation Forces demolish agricultural barracks in Tulkarm governorate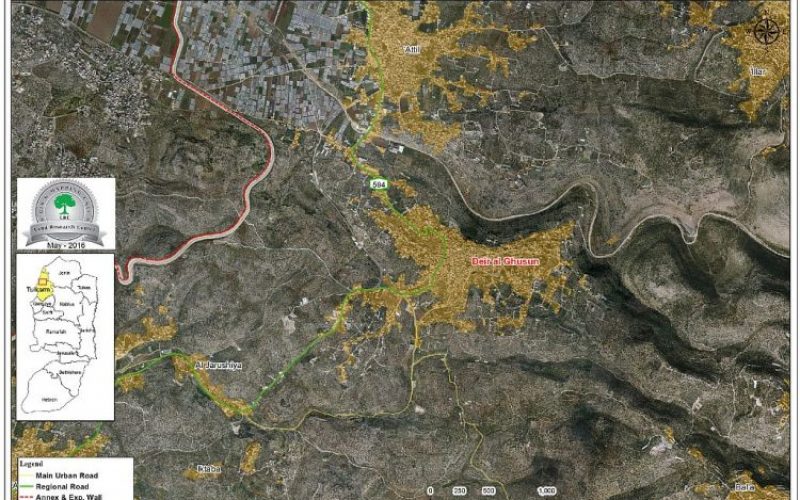 Violation: demolition of barracks
Location: Deir Al-Ghusoun village- Tulkarm
Date: May 16, 2016
Perpetrators: Israeli Occupation Forces
Victims: farmer Jalal Al-Janem
Details:
Since 2000, the Israeli occupation authorities has been working hard to devour vast area of lands from Palestinian territories. One method was through the establishment of the apartheid wall, which took over existing lands and isolated others behind its path. Not only, the occupation demolished all structures located within the isolated lands by the wall to later declare such lands as "State Property".
It should be marked that the area isolated behind the wall in the West Bank totals 191,592 dunums. When finished, the wall will isolate a total area of 723,709 dunums((source: geographical information system GIS – LRC).
It is reported Israeli Occupation Forces accompanied by two military dozers on May 16, 2016 raided the western area of Deir Al-Ghusoun village, which is isolated behind the wall, and demolished five agricultural barracks used for sheep, three fodder storage units and one room for workers and guard in addition to three water tanks. Noteworthy, the structures are founded on a four dunum plot that is owned by farmer Jalal Al-Janem.
The affected farmer received a military order of Stop-Work on his structures on September 2015. It is when the farmer started the licensing procedures in the Israeli court of Beit El colony, which as a matter of fact rejected the farmer's application to obtain a license. The rejection came on the claim of "proximity to the wall".
Photo 1: the structures at time of demolition
The following table shows information about the affected farmer and properties:
Affected citizen

Family

Minors

No. of sheep

Demolished barracks

Area\m2

Nature of structures

Jalal Al-Janem

7

3

245

1

120

Metal slaps agricultural barracks

1

80

1

80

1

45

1

16

Barrack for horses

1

12

Storage unit for fodder

2

24

Two storage units

1

12

Room for workers and guard

3

3م3

Water tanks

0

0

Electricity generator, cables, 12 feeders, 6 drinkers, and surveillance system+ a computer server

Total

12

389
Source : Field observation- Department of Monitoring Israeli Violations- Land Research Center-2016
The farmer told Land Research Center that he had to sell his sheep for cheap because he lost their shelter and fodder as well. Losses of farmer Jalal were estimated of 160,000 NIS.
About Deir Al-Ghusoun:
7km to the northeast of Tulkarm, the village is edged by Atil village from the north, Al-Jaroshyyeh village from the southwest, Alaa village from the northeast and Bal'a village from the south. Deir Ghusoun has a total population of 10629 (2014 census), who live on a total area of 13,394 dunums, of which 11,864 dunums are the village's built-up area. The apartheid wall confiscated 268 dunums from the village's lands for its construction and isolated 1081 dunums. Total length of the wall on the village's lands is 2859 meters.
Classification of Deir Al-Ghusoun lands according to Oslo Accords is as follows:
2281 dunums are classified as area "A"
5103 dunums are classified as area "B"
6010 dunums are classified as area "C"
Land Research Center LRC sees that demolitions contradict with all of the International conventions and Humanitarian laws including:
Article 17 of the (1948) Universal Declaration of Human Rights stating: "Everyone has the right to own property alone as well as in association with others. No one shall be arbitrarily deprived of his property."
Section ‹G› of article 23 of the (1907) The Hague Conventions asserting: "In addition to the prohibitions provided by special Conventions, it is especially forbidden to destroy or seize the enemy's property, unless such destruction or seizure be imperatively demanded by the necessities of war."
Article 53 of the Geneva Fourth Convention (1948) declaring: "Any destruction by the Occupying Power of real or personal property belonging individually or collectively to private persons, or to the State, or to other public authorities, or to social or cooperative organizations, is prohibited, except where such destruction is rendered absolutely necessary by military operations."
Section 1, Article 11 of the International Covenant on Economic, Social and Cultural Rights (1966): "The States Parties to the present Covenant recognize the right of everyone to an adequate standard of living for himself and his family, including adequate food, clothing and housing, and to the continuous improvement of living conditions. The States Parties will take appropriate steps to ensure the realization of this right, recognizing to this effect the essential importance of international co-operation based on free consent."
Prepared by
The Land Research Center
LRC