Israeli Occupation Forces set up a fence alongside agricultural lands of Yabad town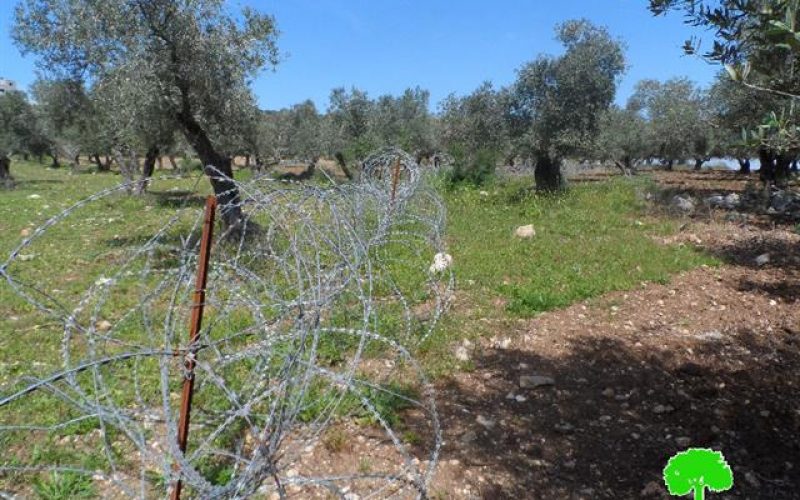 Violation: setting up a fence
Location: west Ya'bad town- Jenin governorate
Date: March 20, 2016
Perpetrators: Israeli Occupation Forces
Victims: farmers of Ya'bad
Details:
Israeli Occupation Forces have recently set up an apartheid fence west, Ya'bad town; more specifically nearby the bypass road number 585 that links Mevo Dotan colony to the armistice line "green line".
It should be marked that the fence is of 900 meters in length and extends from the edges of Imreiha village to a near distance to of Dotan checkpoint. The fence isolated 2500 dunums of lands cultivated with olives and other fruitful trees. This will complicate farmers' movement and access to their isolated lands.
Photos 1-2: the fenced lands
The commander of Judea and Samaria area, Le'o Karmili, declared on January 07, 2016 through the military order number (16/2/م د) the seizure of 5.283 dunums from the lands of Ya'bad that area founded on the side of bypass road number 585. This is for the sake o establishing a fence to ban Palestinians from being around their lands.
Previous procedures:
It should be marked that Israeli Occupation Forces closed the main southern road of Ya'bad town in addition to eight other agricultural ones during 2010. Farmers were banned from using the roads, which link the town to their agricultural lands. The new fence came to reinforce closure and strike the area's economy.
Not only, the occupation banned the coal industry in the area . in 2009, Israeli Occupation Forces closed all coal mines in the area on the claim of "environment reservation". Noteworthy, the mines were reported a source of income and jobs for many families from the area, who are now jobless.
About Ya'bad village:
The village is located 18 km to the west of Jenin governorate. It is edged by the villages of Al-Khiljan, Al-Tarm, Al-Araqa, Imraiha and Khirbet Mas'oud, Zabda from the north, Qaffin village from the west, Al-Qaffriat village from the east and Arraba, Al-Nazla Al-Sharqiya and Baqa Al-Sharqiya from the south.
With a total land area of 29572 dunums, of which 1814 dunums are the built-up area, Ya'bad is inhabited by 13640 people (2007).
The occupation confiscated 1840 dunums from Ya'bad; the confiscation is clarified as follows:
Israeli colonies confiscated 483 dunums as follows:
Year of establishment

Confiscated areadunum

No. of colonists

Mevo Dotan

Jarmish
Bypass roads number (569 & 585) confiscated 1357 dunums.
The lands of Ya'bad are classified, according to Oslo Accords, as follows:
1674 dunums are classified as area "A"
8124 dunums are classified as area "B"
19774 dunums are classified as area "C"
Prepared by
The Land Research Center
LRC