Israeli Occupation Forces notify water well of demolition in the Hebron town of Beit Ummar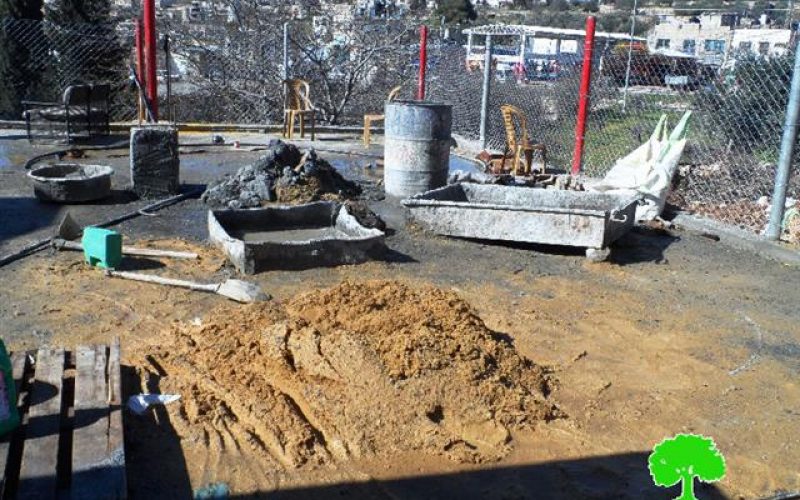 Violation

: notifying water well of demolition

Location: Beit Ummar- Hebron
Date: February 08, 2016
Perpetrators: Planning and Construction Committee- Israel Civil Administration
Victims: Ahmad Abu Ayyash
Details:
Israeli occupation authorities notified on February 08, 2016 water well of demolition on the claim of "unlicensed construction" in the Hebron town of Beit Ummar. Noteworthy, the well belongs to citizen Ahmad Abu Ayyash. Abu Ayyash told Land Research Center that Planning and Construction Committee- Israel Civil Administration accompanied by an army patrol raided the area of Al-Qarn, east of the town, left a demolition order by the well and took photos of it before they had left.
Photos 1+2: the demolition order
The order mentioned that the well was established without a proper building licensepermit , stated a halt on construction wall and requested the demolition of what has been so far built within a seven day deadline. Israeli occupation authorities threatened the citizen that if he fails at compelling to the order, demolition will be carried out by Israeli dozers and all expenses will be billed to the affected citizen.
It should be marked that the structure was served a stop-work order on December 06, 2015. December 27, 2016 was assigned as the hearing session for the Inspection Sub-Committee in the court of Beit EL colony to consider the status of the notified structure.
Abu Ayyash prepared the legal file needed to object the order and submitted it to the Regional Planning Committee-Israel Civil Administration. Saint Yves legal association will be responsible of objecting the order and following up on the case.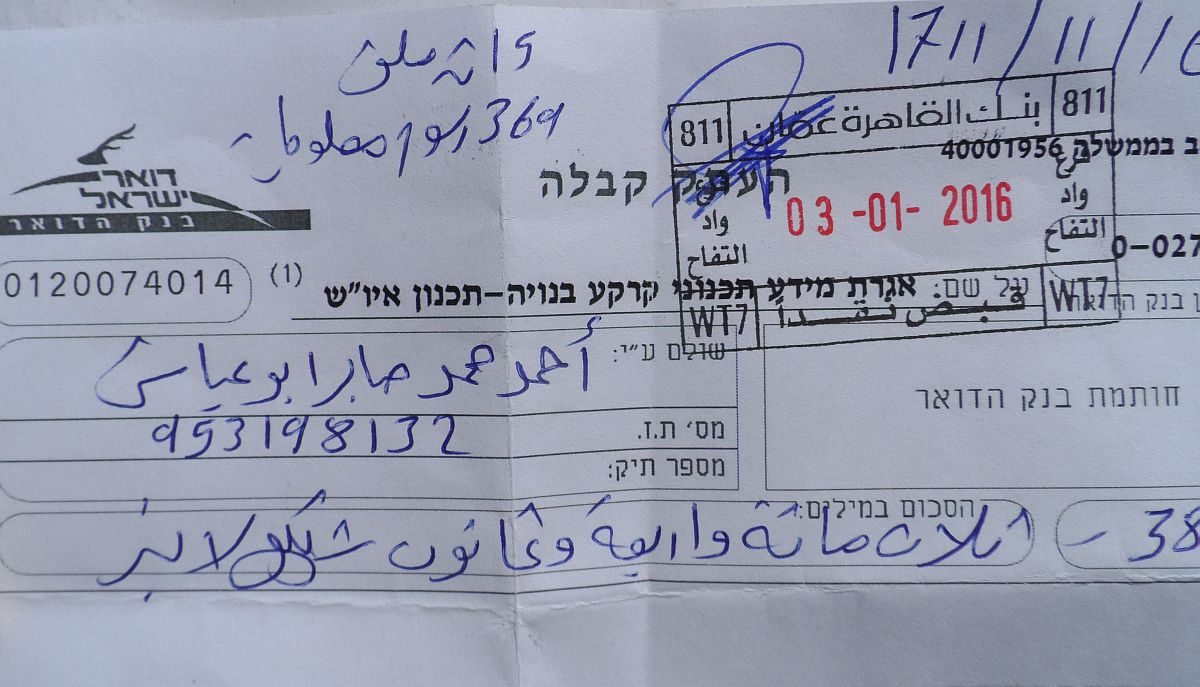 Photo 3: the receipt of building license application from the Civil Administration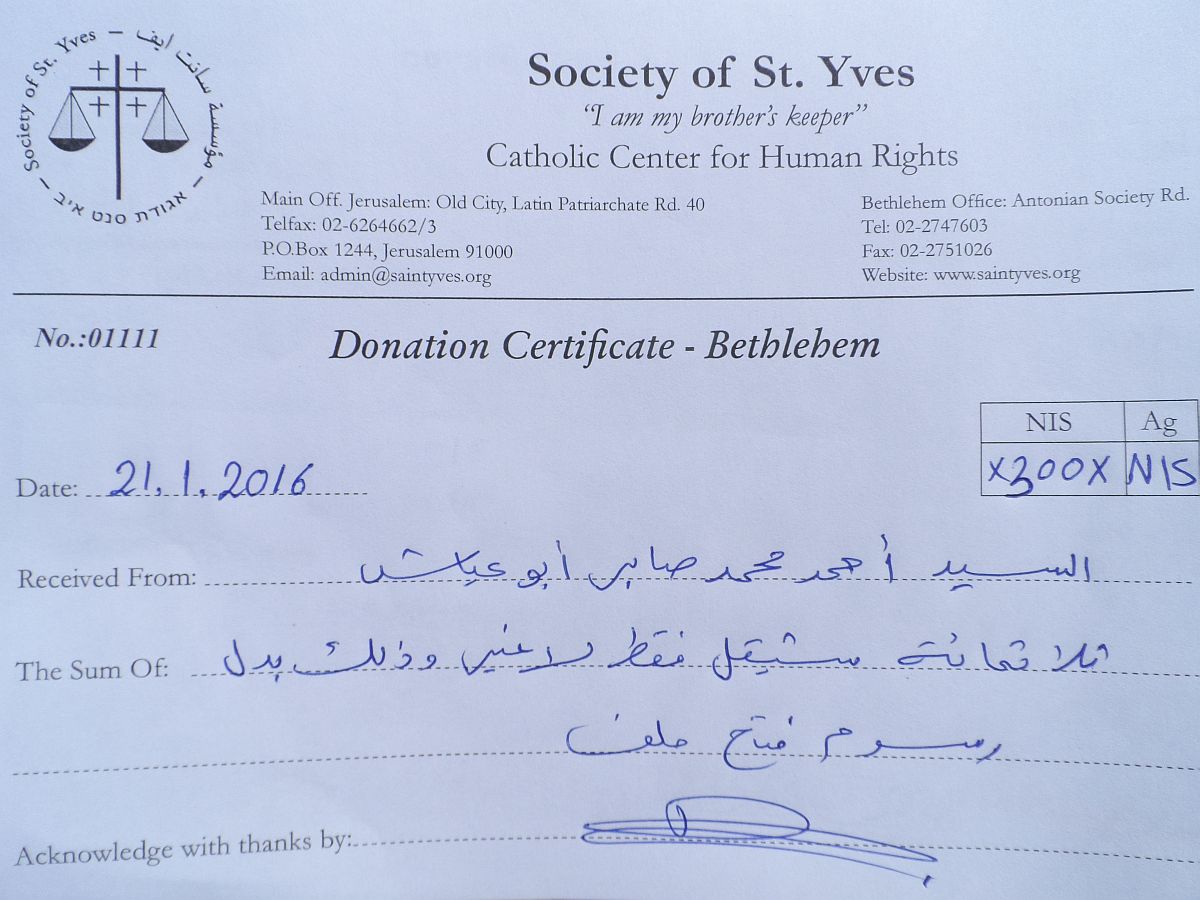 Photo 4: a receipt of hiring an attorney to object the case
It is reported that the targeted well is built by fortified cement with a total volume of 600m3. Construction works on the well started in 2015 and are now in the finishing phase.
Photos 5-6: view of the targeted well
It is also reported that the well was supposed to be used for agricultural ends and for home use as well. Abu Ayyash owns a 5 dunum plot cultivated with vegetables. Noteworthy, not only Abu Ayyash family profits from the water well but one of his neighbors does too.
Taking into account the well is founded in a low area, Ayyash said that he collects rainwater that goes down the hill where the well is founded.
It should be marked that Israeli Occupation Forces control Palestinian underground water and target Palestinians at any attempt of obtaining water be it by digging wells, pools and catchment areas. Since the beginning of 2016 and until now, the occupation demolished 13 water well, tanks and pools and threatened eight wells of demolition on the claim of "unlicensed construction".
About Beit Ummar:
It is located 12 km to Hebron city. The village's total area is 21,285 dunums, of which 1,375 dunums are considered the built-up area; around 13, 548 people inhabit Beit Ummar.
The Israeli occupation authorities confiscated 560 dunums from Beit Ummar for the favor of the bypass road no.60. The occupation also confiscated 1,216 dunums for the favor of the following colonies:
Colony

Year of establishment

Dunums confiscated from Beit Ummar

Built-up areadunums

No. of colonists

Karmei Zur

1984

179

289

623

Migdal Oz

1977

682

1,076.4

298

Kfar Etzion

1976

18.6

923.5

404

Efrat

1979

98.6

2,063.6

7,037

Alon Shevut

1971

237.8

934

3,146

Total

1216

5,286.5

11,508
Source: Geographic Information System- Monitoring Israeli Violations Team- Land Research Center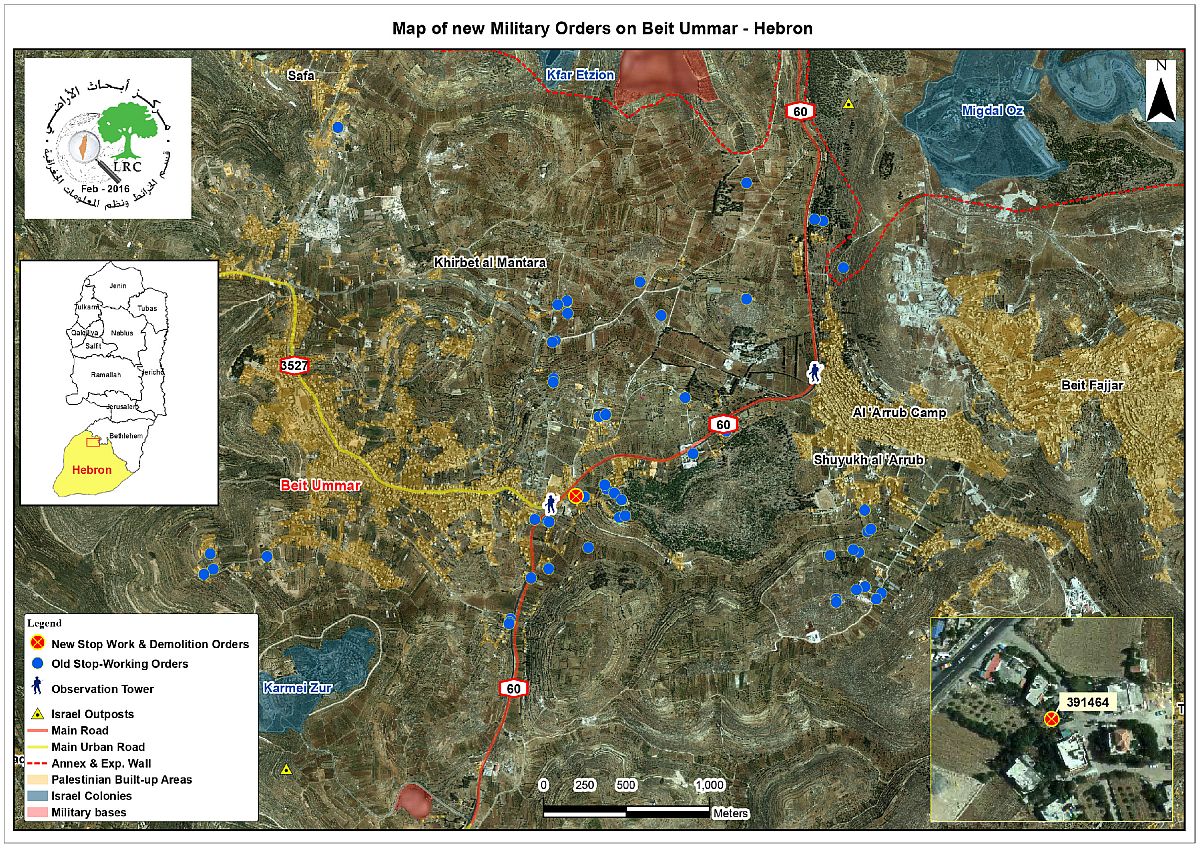 Prepared by
The Land Research Center
LRC