Demolition orders on agricultural and residential structures in Tubas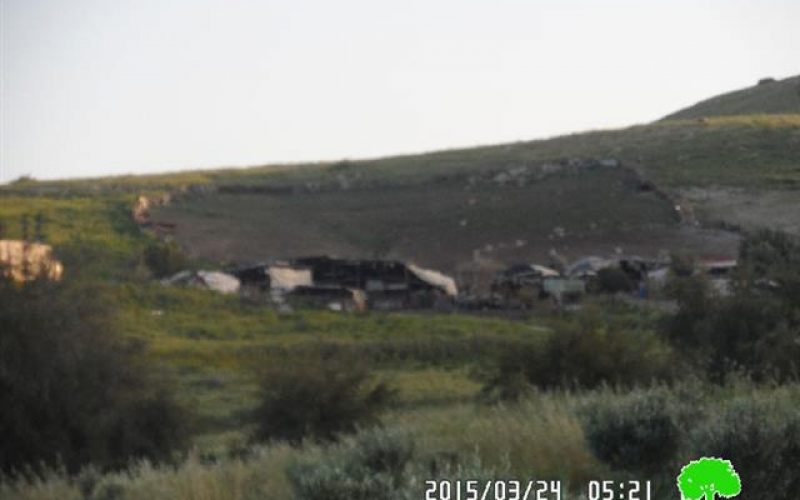 Violation: serving demolition orders on structures
Date: 22/03/2015
Location: Khallet Judaea-Tubas
Perpetrators: Israel Civil Administration and army
Victims: two Palestinian families
Details:
Agricultural sector is considered the economic nerve for the area of Palestinian Jordan Valley (al-ghoor) for what it has of importance in enhancing the area's overall economic status and generating income for many agricultural families.
It should be marked that the Israeli occupation authorities have always been conducting a policy to keep farmers away from their lands to make a room for themselves to carry put colonial expansion plans.
Home demolition policy was conducted by the Israeli occupation authorities in the area of Sahel al-Bikai'a for the sake of completing a plan for land grab and confiscation through imposing displacement on residents. On March 22, 2015, the Israeli occupation authorities delivered "additional opportunity to object a demolition" for families from the area of Khallet Judaea, east Tammun village in Tubas. The order followed a demolition order that was issued in 2007; a three day deadline was mentioned in the order to carry out the objection process. Families residing the notified structures will end up displaced and homeless.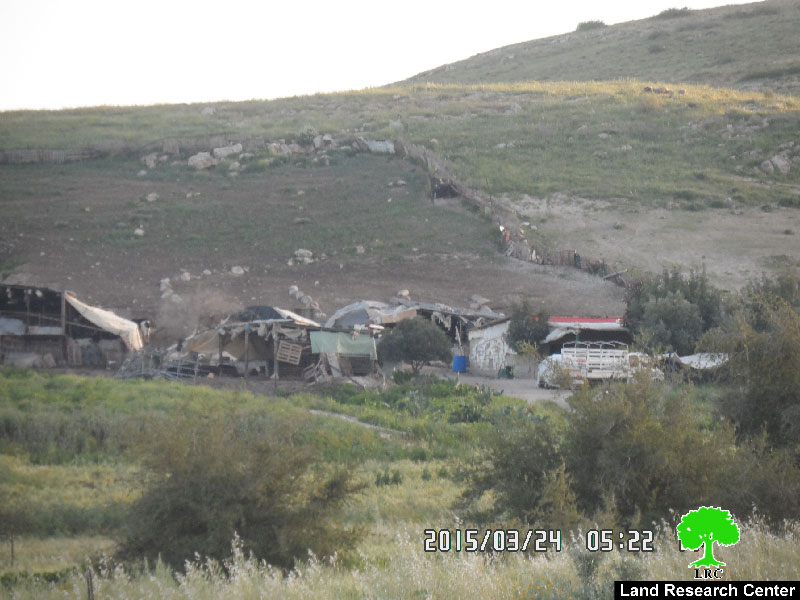 Photos 1-5: the notified structures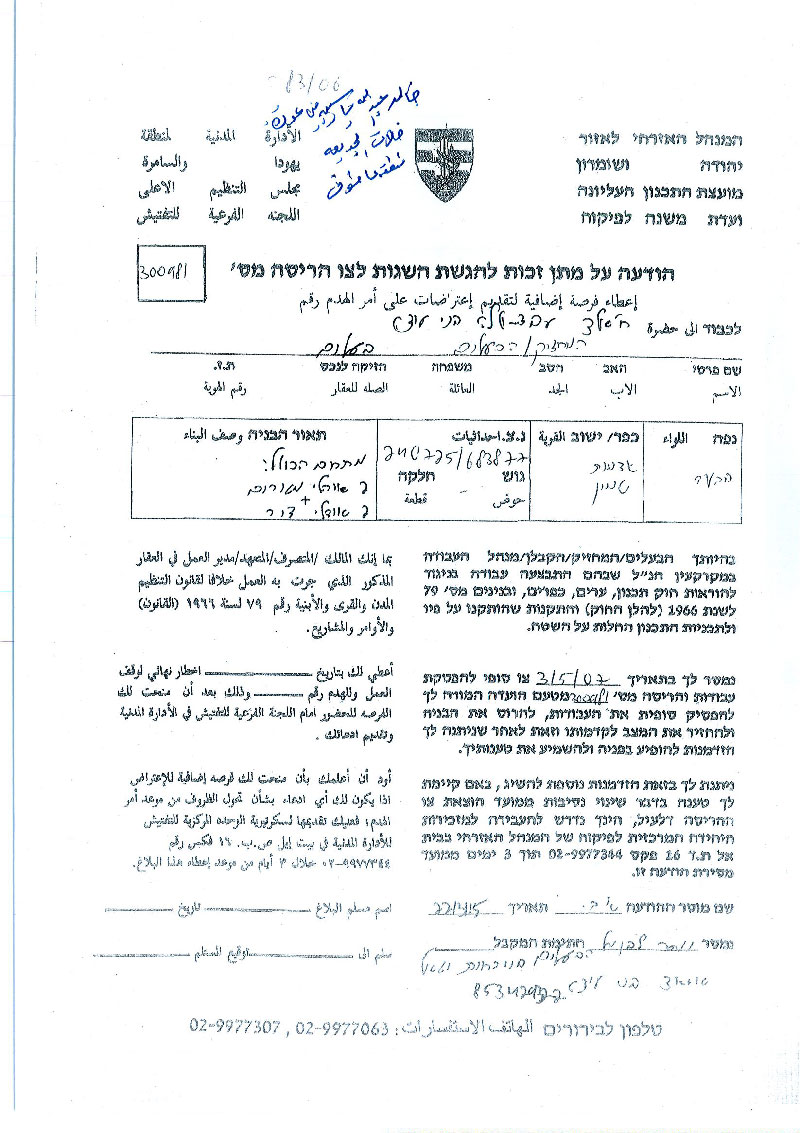 The military order annexed
The following table lists the damages resulted due to the order:
Affected citizen

No. of order

Family

Minors

Notified structure

No. of sheep

Residence

Barn

Khalid Bani Oudeh

300981

11

4

Residential tent (60m2)

Residential barrack 45m2

Barrack 80m2

Barrack 16m2

70

Jum'a Fayyad

N/A

9

4

Residential tent (90m2)

Barrack 45m2

Barrack 60m2

90

Total

20

8

3 residences

4 barracks

160 رأس
Source: Field Observations – Monitoring Israeli Human Rights Violations- Land Research Center- 2015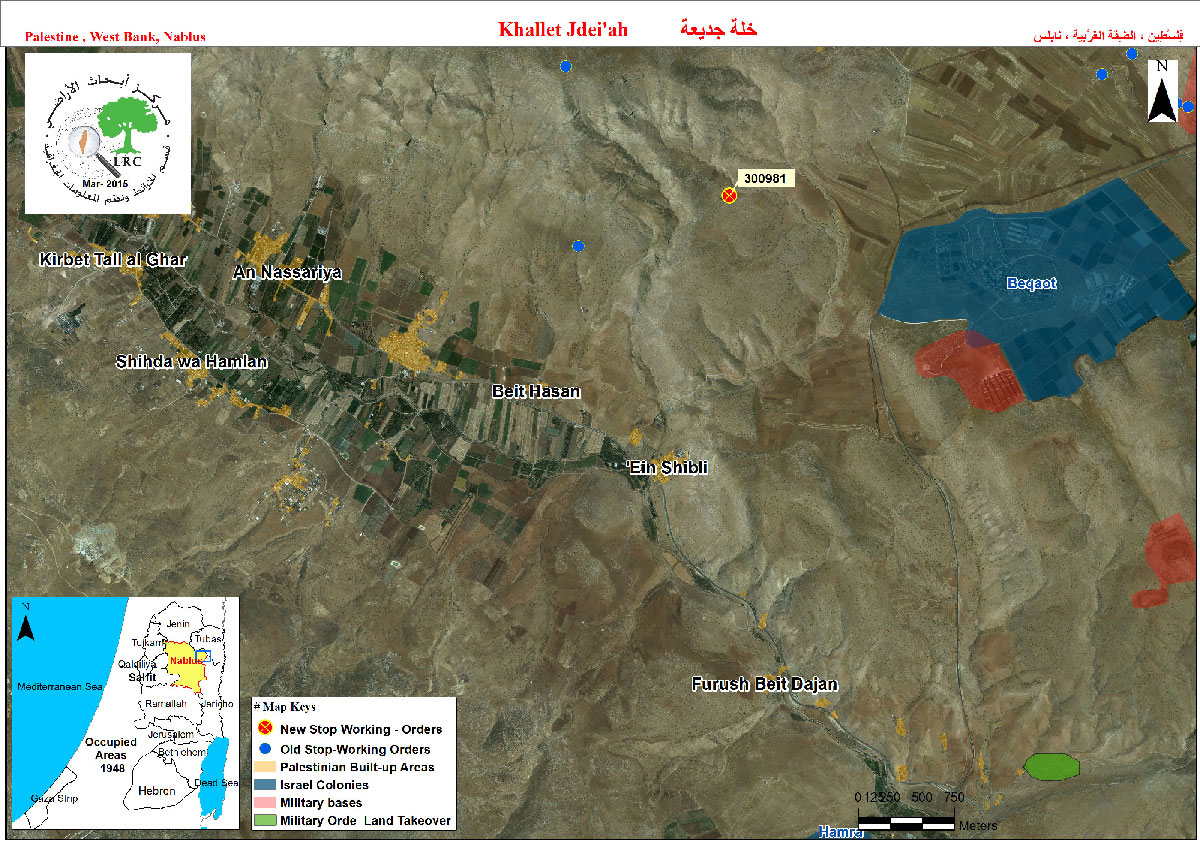 The area of Khallet Judaea accommodates 13 Bedouin families coming originally from Tammun village; residents depend on sheep husbandry as a source of income, taking into account that Israel controlled all economic aspects in the occupied territories.
Since 2007, the Israeli occupation authorities have been harassing residents of the area through confiscating their pastures, conducting night raids and break-ins and serving them demolition orders on their structures.
Prepared by
The Land Research Center
LRC