Uprooting 36 fruitful olive trees in Yasuf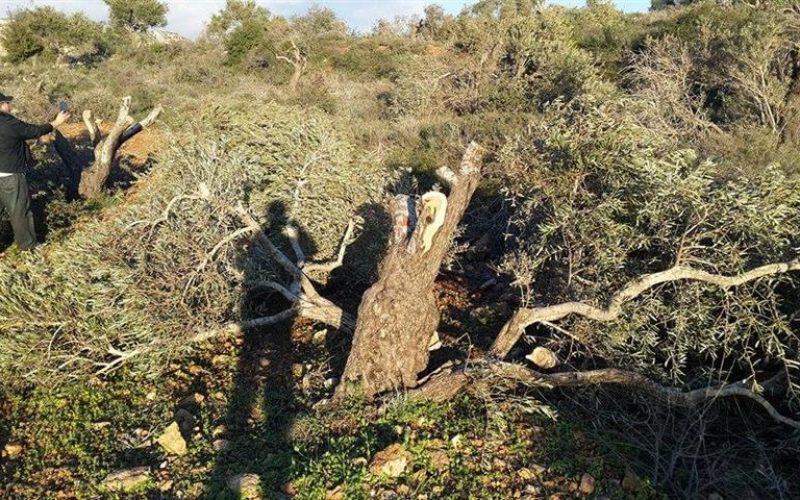 Violation: uprooting olive tree
Location: Yasuf / Salfit governorate
Date: 11/01/2015
Perpetrators: Tapuah colonists
Victims: 4 agricultural families from Yasuf
Details:
In a new attack on the olive tree, price tag gangs from Tapuah colony on January 11, 2015 cut down and uprooted 37 olive trees using sharp tool ( Data of Palestine Ministry of Agriculture). The attacked tree are located in the area of al-Tin al-Shami, which is only 2km away from Yasuf and 400 away from Tapuah colony. Noteworthy, colonists at time of the attack cut the trees down from the stocks making sure Palestinian farmers will not be able to use them again.
Photos 1-6: signs of the attack on the olive trees
The trees belong to four families from Yasuf; the following table shows information about the damage inflected due to the attack:
| | | | |
| --- | --- | --- | --- |
| Affected citizen | Family | No. of affected trees | Nature of damage |
| Sayil Hamodeh | 6 | 11 | Total |
| Mostafa Yasin | 9 | 10 | Total |
| Shaher Yasin | 8 | 8 | Total |
| Saed Yasin | 7 | 8 | Total |
| Total | 30 | 37 | |
It should be marked that the same gangs on November 2014 cut down more than 87 olive trees in the same location of the latest attack,
Despite all complaints submitted by farmers, the Israeli police never considered the pleas whatsoever. Instead the police provides protection and support for colonists at times of attacks.
Kfar Tapuah colony:
The colony was built on Yasuf lands in 1982. It overlooks Z'atara crossroad which is the only connection between southern and northern West bank. The residents of the colony are mostly Jewish extremists who follow the Kabbi 'Mae'er Kahana' who used to call for cleansing 'the Jewish state' from the Palestinians before being murdered in the USA in the early 1990's.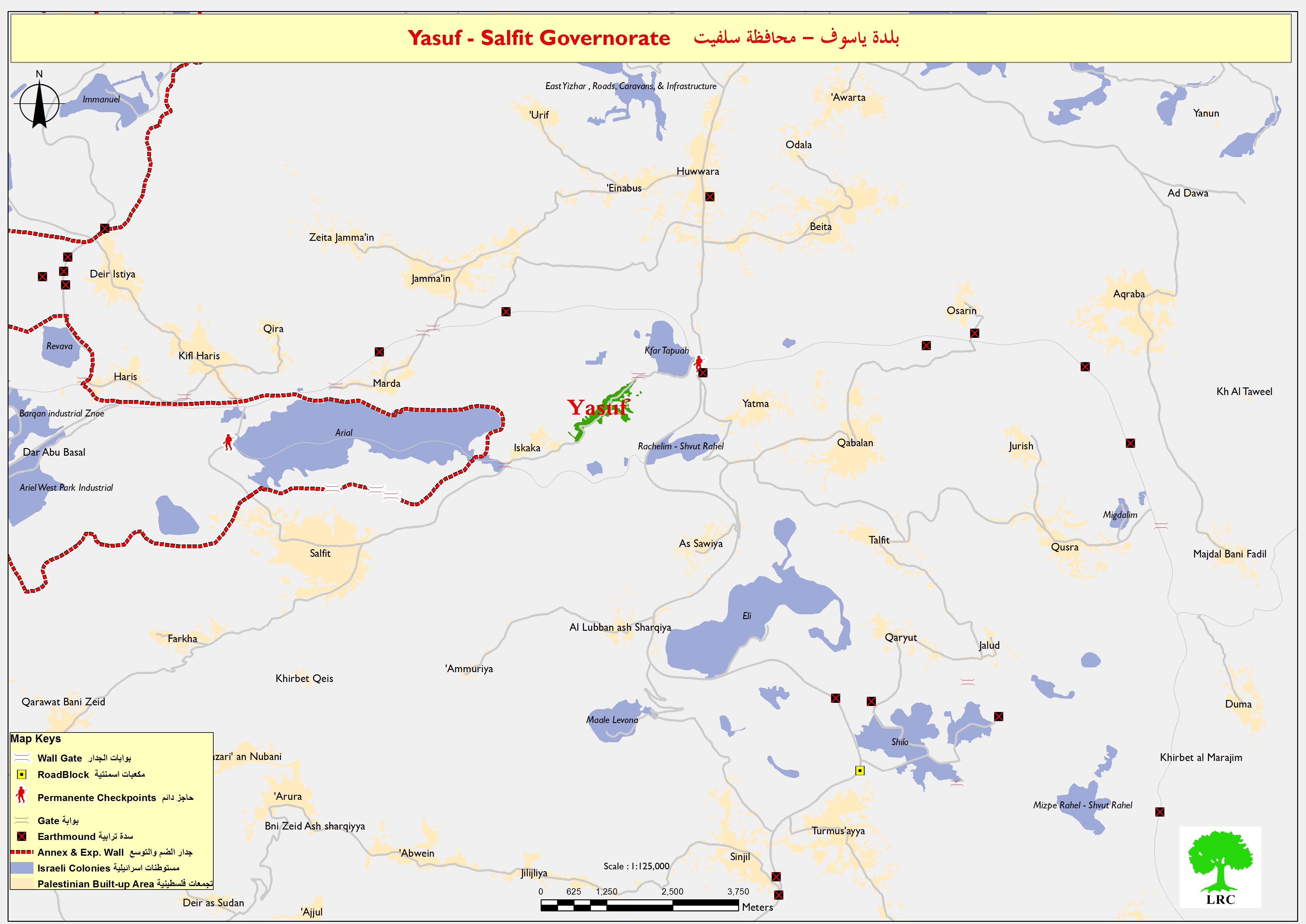 The total area of the colony is about 233 dunums. It includes an Israeli Occupation Army encampment in addition to a residential area. In addition, two outposts were established since the beginning of the second Intifada in 2000. They are:
Rahalim, located to the south of Yasuf.
The New Tapuh, located to the east of the village.
Both outposts took over more than 100 dunums of Palestinians lands.
For further information about the attacks Yasuf underwent during 2014, please read through the following reports issued by Land Research Center :
Prepared by
The Land Research Center
LRC