The Israeli occupation demolishes 3 agricultural barracks in Mukhmas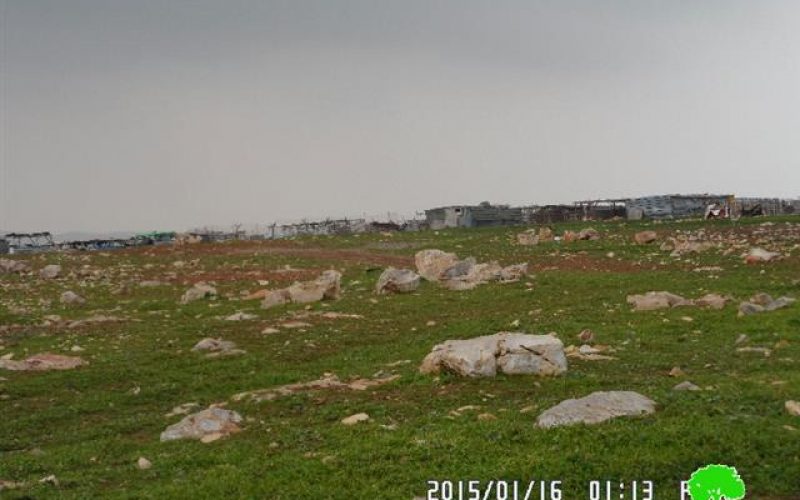 Violation: destroying 3 agricultural barracks
Date: 14/01/2015
Location: Mukhmas / Jerusalem
Perpetrators: Israeli occupation army
Victims: three Bedouin families
Details:
The Israeli occupation authorities on January 14, 2015 demolished three barns for sheep husbandry in the Bedouin community of Arab al-Mlaihat in the area of Maghair al-Dair, in Jerusalem. The community is located nearby the colony of Maale Mukhmas, east of Jerusalem city.
This step comes in time of sheep reproduction season, which reflects the occupation intention of inflecting as much damage and losses as possible on Bedouin families residing the area. Noteworthy, sheep herding and husbandry is the only source of income for Bedouin people in such communities.
It should be marked that the occupation fully damaged the metal slaps, from which the barns were built so that Bedouins cannot re-use them again. The following table shows the damages and losses resulted from the demolition:
| | | | | | | |
| --- | --- | --- | --- | --- | --- | --- |
| Affected citizen | Family | Minors | No. of sheep | Area/m2 | Note | photo |
| Fayez Ka'abna | 7 | 5 | 60 | 30 | First time demolition | |
| Ali Mlaihat | 6 | 4 | 70 | 24 | First time demolition | |
| Mohammad Mlaihat | 4 | 2 | 30 | 25 | Second time demolition | |
| Total | 17 | 11 | 160 | 79 | | |
Source: Field Observations – Monitoring Israeli Human Rights Violations-Land Research Center -2015
It should be also marked that this attack is the first of its kind since 30years; such attacks reflects the occupational plan of emptying the area for the sake of taking it over. The occupation has been working on establishing a residential mass in the area of al-Nuwai'ma to relocate all Bedouins of Palestinian-Jordanian Valley in.
About Arab al-Mlaihat community :
Being located in the area of Maghair al-Dair, this community is the second in size among all communities of the West Bank. Al-Mlaihat has a total of 250 families (3 members per family) making them around 750 people. Inhabitants of this community live in houses made of metal slaps and shade-cloth and depend on herding as a source of income. Residents of Arab al-Mlaihat have been residing the area since 35 years ago.
It is reported that residents Arab al-Mlaihat come originally from Negev; people of this area were forcefully expelled to live in different places of the West Bank due to their nomadic nature. In mid eighties, people of al-Mlaihat were sent out from al-Irqa area to Maghair al-Dair, which is only 7km away from it, claiming the area a military closed zone by Israel. The community has been safe since then until today's demolition orders, which rings the bell of a catastrophe to take place soon.
Prepared by
The Land Research Center
LRC