Stop-work Orders on Structures of a Bedouin Community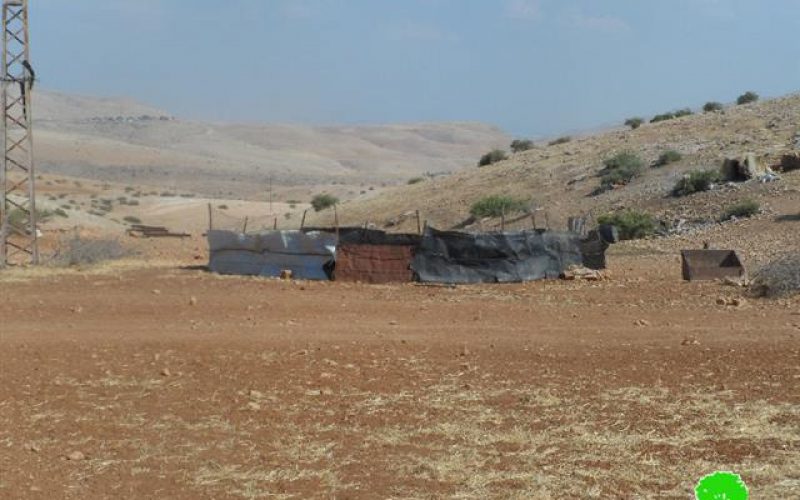 Violation: Serving four families stop-construction orders
Location: Al-Makasser, Tubas governorate
Date: 10/06/2014
Perpetrators: The Inspection Sub-Committee of the Israeli Civil Administration
Victims: Four Bedouin families comprising 28 people, including 15 children
Details:
On Tuesday morning, June 10, a large force of the Israeli occupation army accompanied by the Planning Committee of the Israeli Civil Administration broke into "as-Salamin" Bedouin community, near al- Makasser, 1.5 kilometers northward of Hamra military checkpoint. The Israeli soldiers handed four Bedouin families, inhabiting the mentioned area, orders to stop construction in their structures under the pretext of lacking a building permit in area classified "C" according to Oslo Accords.
Pictures 1-4: The threatened structures
According to the military orders, the families were given a respite that ends on June 29 as a final date to obtain a license. The same date was set for a meeting of the Planning Committee to be held in Beit El court to discuss the status of the structures and decide upon the next move.
The table gives more details about the affected citizens and their notified residences and structures:
#

Citizen

# of residences

Area

(m2)

# of family

# of sheds

Area (m2)

# of barns

Area (m2)

Sheep

Others

Tabus (ovens)

No. of order

1

Nizam Abu Awwad

1

100

3

1

120

1

160

180

Barely warehouse

1

2

Nidal Abu Awwad

1

100

8

2

80+80

1

120

200

1

3

Adel Salamin

3

90+60+35

7

2

100+60

2

100+60

70

1

4

Kayid Salamin

3

60+60+35

10

1

60

1

100

120

1

Total

8

540

28

6

500

5

540

570

1

4
*Source: Field Research- Monitoring Israeli Violations Team- Land Research Centre (LRC).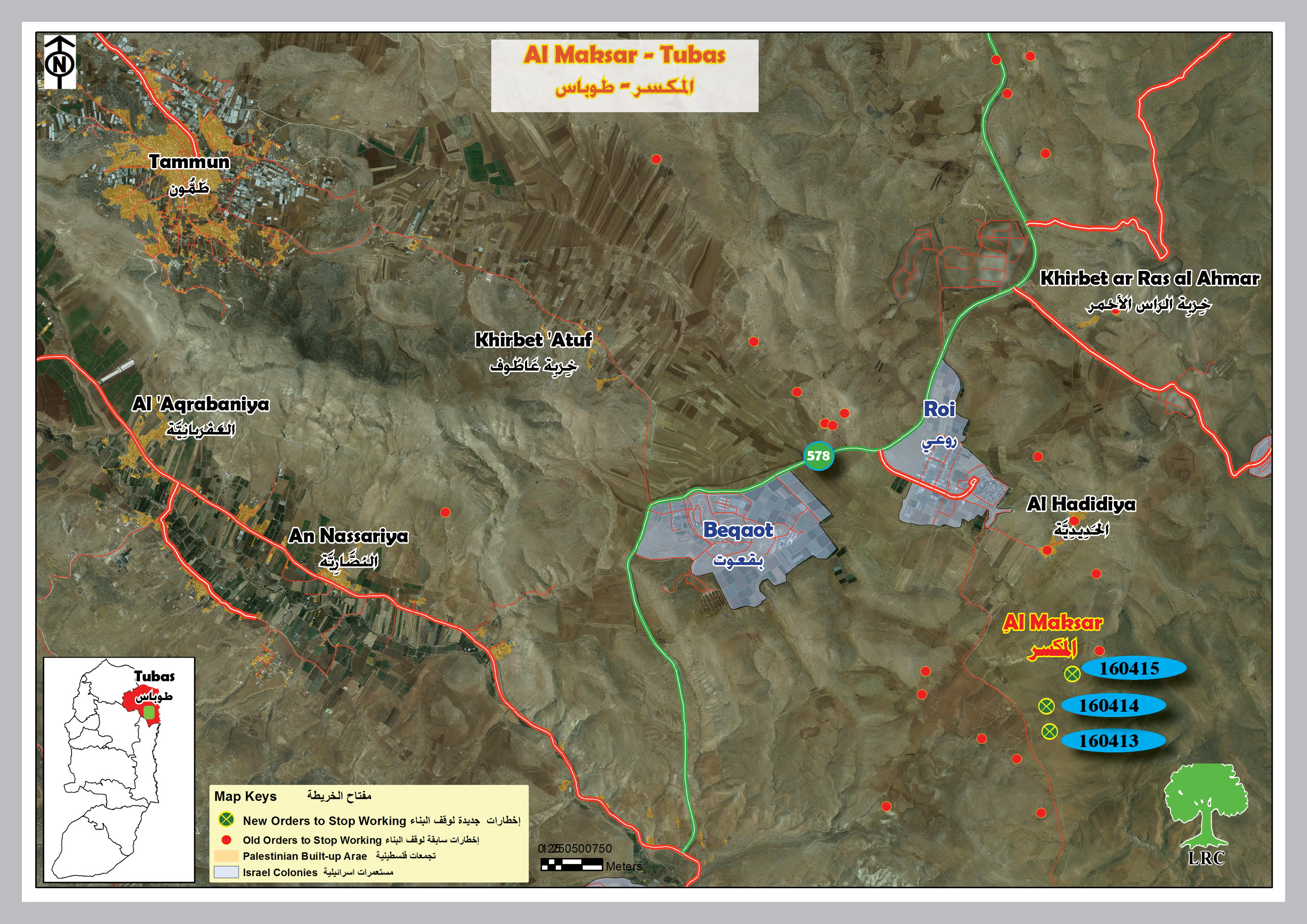 It should be marked that "al-Makasser" is inhabited by four Bedouin families of as-Salamin and Abu-Awwad who hail from 'Anner village in the Negev. They were expelled to as-Samu' village, south of Hebron in 1948. They chose to move out and settle in the Jordan Valley, particularly in the northern and mid parts in 1960. They lead a primitive life and inhabit residences made of metal slabs and sackcloth and graze sheep to generate a source of income to sustain them.
Steadfastness in defying Israeli plans:
It is worth mentioning that the families of Nizam and Nidal Abu Awwad and Adel as-Salamin were all born in the area of al-Makasser of the Jordan Valley and have never been notified before. So, this step is considered the first of its kind on the part of the Israeli occupation that aims at emptying the Valley of its inhabitants to make way for colonial plans.
The threatened families have sought the consultation of the Legal Department in the Municipality of Tubas in completing the legal procedures to snatch an injunction to halt any demolition and eviction operations.
Prepared by:
The Land Research Center