The Israeli occupation notifies families of eviction and demolition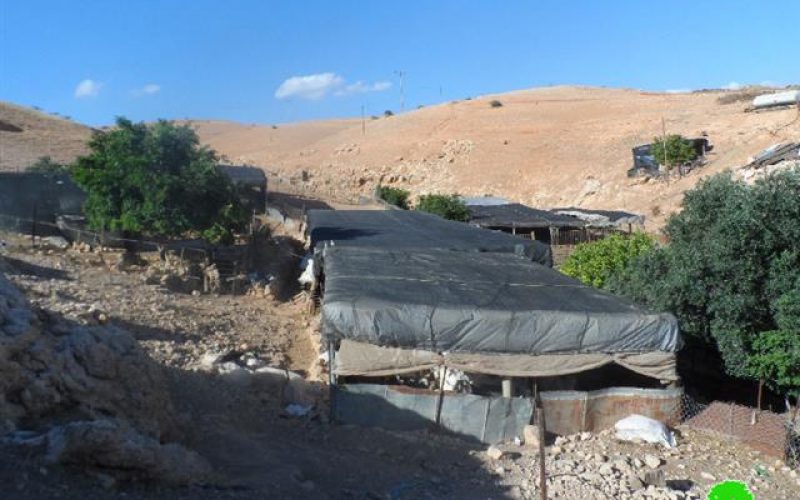 Violation: Deciding to demolish the Bedouin community of Hamsa
Location: Khirbet Hamsa- Tubas governorate
Date: 28/05/2014
Perpetrators: The so-called Planning and Construction Committee of the Civil Administration
Victims: 20 Bedouin families
Details:
On Wednesday, May 28, a large force of the Israeli occupation army accompanied by members of the Planning and Construction Committee broke into Khirbet Hamsa, south of the West Bank city of Tubas, where the army orally informed the inhabitants of the area ( 20 Bedouin families consisting of 139 people including 57 children) of the decision of the Israeli occupation to demolish the Khirbet. Israel claims that people of Hamsa illegally exist in the area and that the injunction they once managed to snatch from the court in 1998 is now invalid.
It should be marked that the Bedouin community of Hamsa is inhabited by Abu al Kabbash and al Awawdeh families who originally hail from al Samu', Hebron and came to settle in an area known as "Thira' Awwad", 18 kilometer south of Tubas.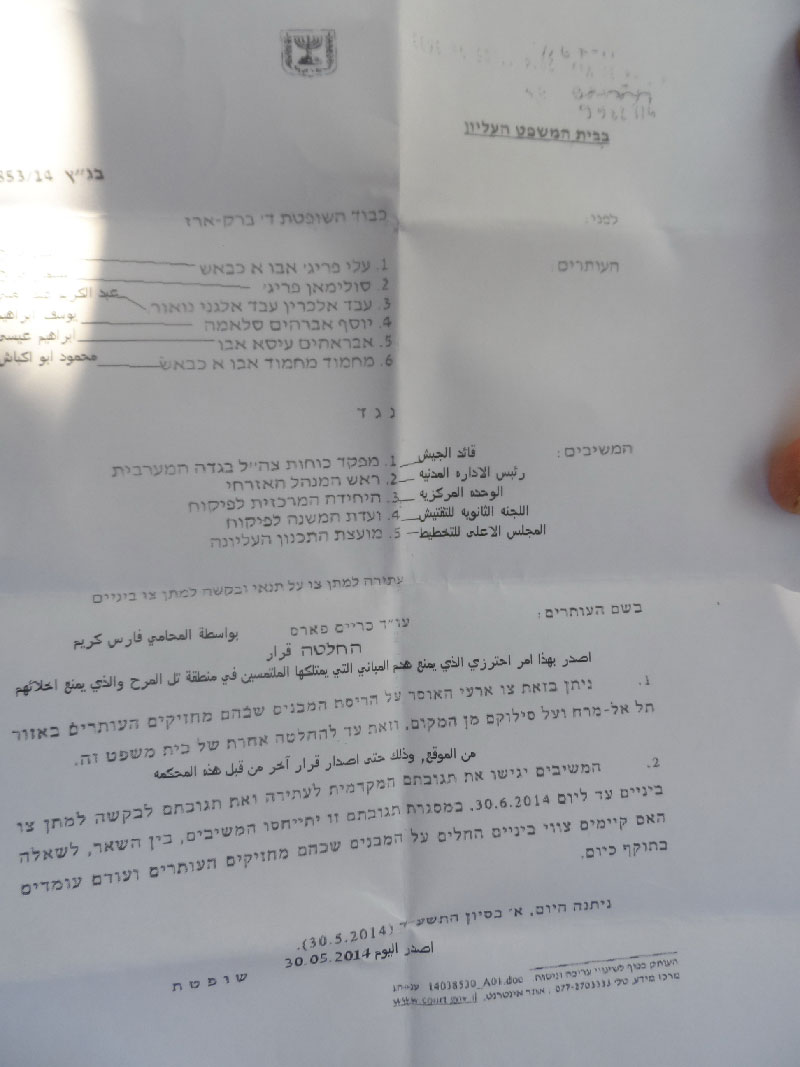 Pictures 1-3: The injunction order to stop the demolition of Khirbet Hamsa in 1998
Pictures 4-5: The targeted Khirbet Hamsa
The community has been a target for the Israeli occupation that aims to strangle people and force them out. Expropriating pastures and declaring vast areas of land military training bases used by the Israeli army without paying any respect for the inhabitants of the area who have to empty the place for the military trainings to take place. Though there are other areas that are uninhabited, the Israeli occupation insists on holding trainings in populated areas.
People of Hamsa, in coordination with the Legal Department of Tubas, assigned a lawyer named Faris Karim to obtain an injunction order to freeze any demolition order taken against the community until they are granted building permits. They managed to get an injunction order that is only valid from May 30 to June 30, a period that is not sufficient to obtain all the licenses needed. The main problem is the Israeli occupation that refuses to issue permits for any Bedouin community in the Jordan Valley. On the contrary, the occupation tries to put as many obstacles as possible to hinder any Palestinian development while encouraging colonial expansions all over the Palestinian land in general and in the Jordan Valley in particular. The table gives information about the notified families of demolition:
No.
Affected citizen
Family
Structures
Residence
Barn
1
Yousef Abu Awwad
16
2
2
2
Nidal Abu Awwad
8
1
2
3
Nizam Abu Awwad
3
1
1
4
Harb Abu Kabbash
8
1
2
5
Walid Abu Kabbash
10
2
2
6
Muhammad Abu Kabbash
6
1
2
7
Ismael Abu Kabbash
8
2
1
8
Hakam Abu Kabbash
6
1
1
9
Ali Abu Kabbash
3
1
1
10
Talib al Awawdeh
5
1
1
11
Husam al Awawdeh
5
1
1
12
Abdul Ghani al Awawdeh
13
3
1
13
Anas al Awawdeh
3
1
2
14
Ibrahim Abu Kabbash
6
1
1
15
Abdul Aziz Abu Kabbash
10
2
2
16
Issa Abu Kabbash
4
1
1
17
Muhammad Abu Kabbash
4
1
2
18
Mahmoud Abu Kabbash
6
1
1
19
Yasser Abu Kabbash
8
1
1
20
Abduallah Abu Kabbash
7
1
1
Total
139
26
28
*Source: Field Research- Monitoring Israeli Violations Team- Land Research Centre (LRC).
Prepared by:
The Land Research Center