Demolition of a Bedouin Community in Al Jiftlik- Jericho Governorate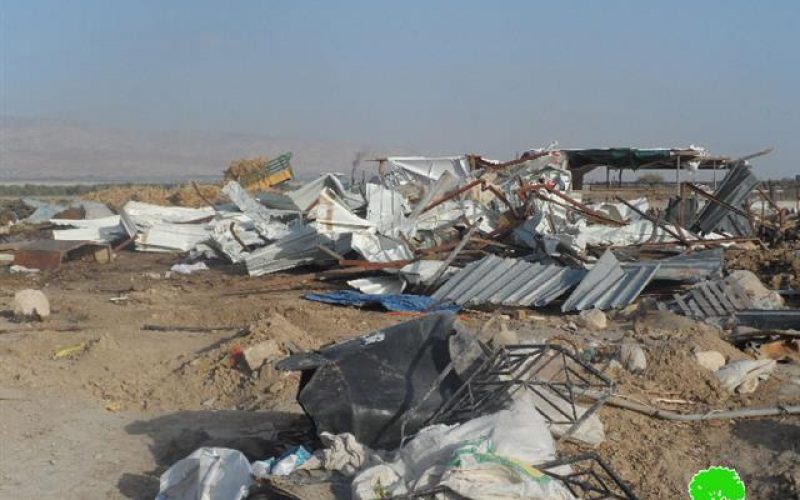 Violation: Leveling all structures of a Bedouin community to the ground
Location: Jiftlik- Jericho
Date: 20/05/2014
Perpetrators: The Israeli occupation army
Victims: 16 Palestinian families, consisting of 75 people including 29 children
Details:
On Tuesday, May 20, Israeli occupation forces embarked on tearing down Abu al Ajaj Bedouin community, southeast of Jiftlik and adjacent to Massuah colony, reducing it to rubble.
The Israeli authorities did not give the targeted families a chance to salvage contents or furniture before the bulldozers destroyed all structures, leaving nothing intact for the inhabitants; even the whole infrastructure , including electricity pools and wires, was destroyed.
The large-scale demolition affected 16 Bedouin families, consisting of 75 people including 29 children. 15 houses made of metal slabs and 28 agricultural sheds and barns, in addition to all other supplements pertaining to sheep breeding as well as domestic items, furniture, contents and water cisterns were all destroyed.
Within the same context, Israeli occupation forces demolished an artesian well that belongs to the family of Al Damen in Jiftlik though the well was erected before the 1967 Israeli occupation of the West Bank. The well was a water source irrigating over 30 dunums of agricultural land. The land on which the well was built was confiscated in the 80s of the last century in order to build Massuah colony. The demolition of a licensed artesian well is considered a violation of international laws prohibiting unjustified attacks on any structure by the occupier.
Commenting on the last demolition operation, Mr. Hani Zubeidat, a legal consultant in Jericho, asserted to an LRC field researcher that: "Demolition aims at forcing people out so that the Israeli occupation has a room for colonial expansion plans for Massuah."
Zubeidat added, "People of the Bedouin community requested to obtain building permits from the Civil Administration in June, 2013. They managed to get an injunction order from the Israeli Supreme Court. But at the beginning of 2014, all procedures of getting licenses were suspended and refused by the Israeli occupation that decided to totally level all structures of the community."
About Abu al Ajaj Bedouin community:
Most inhabitants of the community hail from Yatta, south of Hebron. The left Yatta and settled in Jiftlik in 1979 during their search for pastures and water as sheep breeding is considered their only profession. They lead a simple life and live in homes made of metal slabs and sackcloth. They depend on Jiftlik to supply them with water and electricity which they pay for.
Abu al Ajaj is near the colony of Massuah; that made it an object of attack. It was demolished for three consecutive times during the 80s of the last century. In 2011, people rebuilt their structures. In 2013, all people of the community were served demolition threats for unlicensed construction. And in 2014, the Israeli Supreme Court refused to give them a chance until they get permits. The result is total demolition of the whole community.
Jiftlik is located in the heart of the Jordan Valley; 35 km north of Jericho. It is surrounded by Furush Beit Dajan (northwest) and Massuah colony (west). It is inhabited by 4789 people according to 2014 population projections and its total area is 185031 dunums, including 1110 are built-up area. The Israeli occupation confiscated 12040 dunums of Jiftlik lands for the benefit of:
Name of colony

Year of construction

Area of confiscated land/ dunum

Number of colonists

Argaman

1971

751

Makhoura

1973

419

125

Gittit

1973

480

119

Maale Efrayim

1372

1443

Bitsayel

1972

185

213

Yafit

1980

1428

95

Massuah

1970

2079

145

6714

2140
2. bypass roads no. 90, 505, 508 that devoured 3328 dunums.
3. Israeli military bases that took over 5505 dunums.
Prepared by
The Land Research Center
LRC