Five stop work and demolition orders to Bedouin families in Fassayel al-Fouqa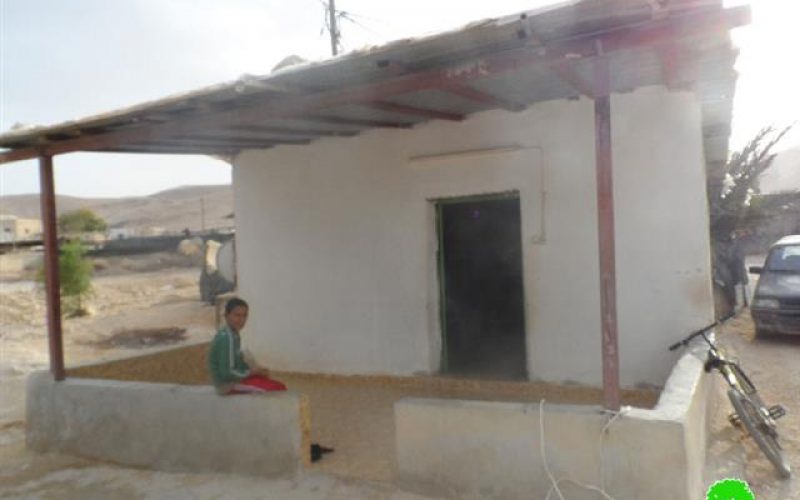 Violation: five structures ordered with demolition in Fassayel al-Fouqa
Date: April 28, 2014
Perpetrators: the Planning Committee of the Israeli occupation
Victims: Five Bedouin families.
Details:
On April01, 2014, the Planning Committee of the Israeli occupation served five stop work and demolition orders, to be carried out on the 28th of April, to five families from the area of Fassayel al-Fouqa- Salfit governorate. Noteworthy, the houses were made of bricks and metal slabs.
The pretext came under unlicensed construction within areas classified "C" according to Oslo Accords knowing that the occupation has previously served the families stop work orders on March03, 2014 with a 10 days deadline to complete the licensing procedures.
The chairman of the Bedouin council to the LRC observer stated that: "the occupation refused all the licensing procedures and insisted on the demolition. That is to prove the colonial plan of expanding lands confiscation and house eviction of the only five Bedouin families (24 members including 8 minors)". The following table shows information about the affected families:
| | | | | | |
| --- | --- | --- | --- | --- | --- |
| Victim | Family | Area in m2 | Order | Nature of construction | photo |
| Mousa I'bayat | 6 | 60 | | Bricks with wooden roof | |
| Mohammad I'bayat | 5 | 60 | | Bricks with wooden roof | |
| Saddam Rashydeh | 7 | 60 | | Bricks with wooden roof | |
| Sami Rashaydeh | 4 | 60 | | Bricks with wooden roof | |
| Shadi Rashaydeh | 2 | 60 | | Bricks with wooden roof | |
| Total | 24 | 360 | | | |
*Source: Field Research- Monitoring Israeli Violations Team- Land Research Centre (LRC).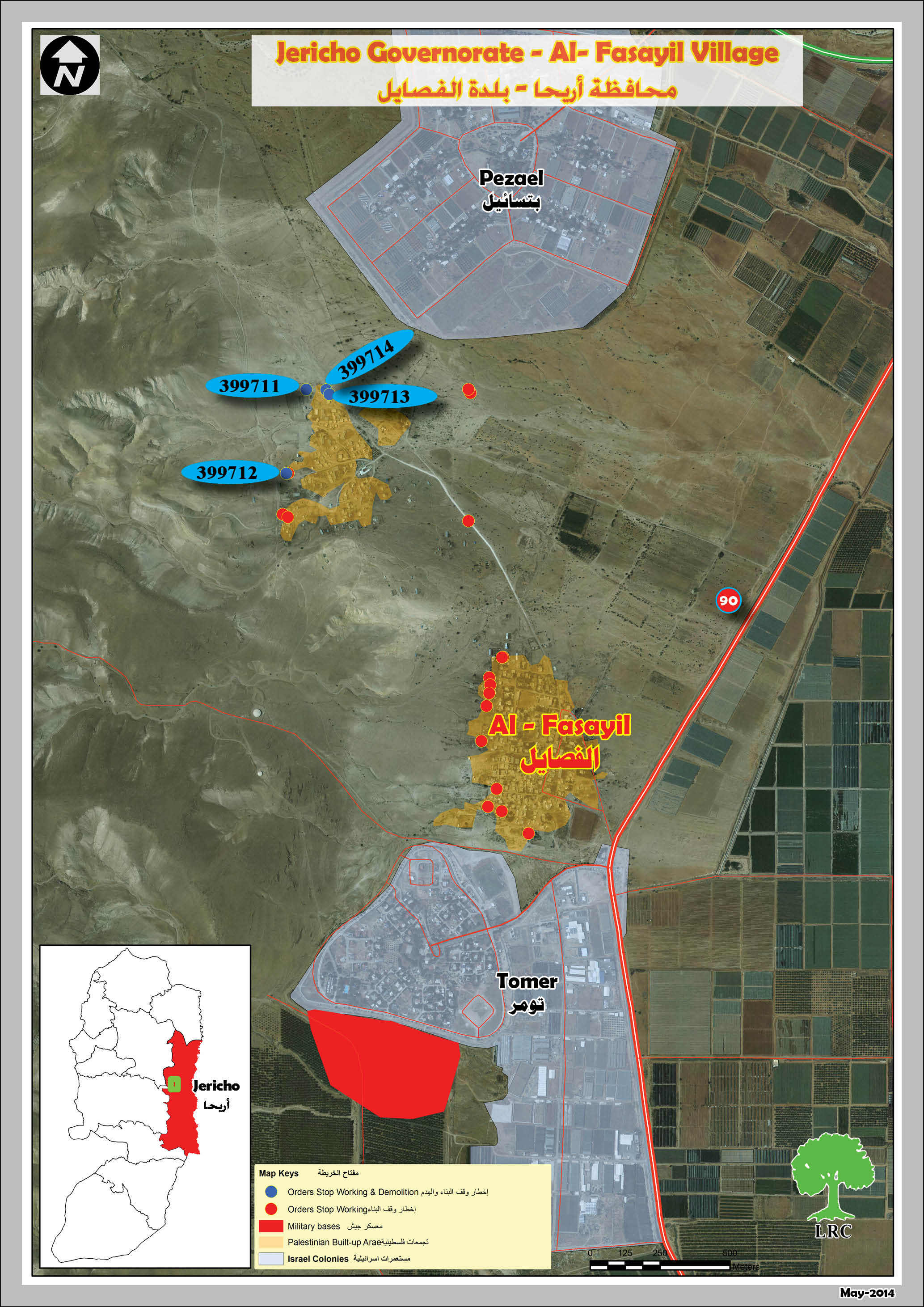 It should be marked that the village of Fassayel al-Fouqa is not acknowledged by the occupation. Residents of the village came from the lands of 1948 after being expelled forcefully out of their lands. Turkman family and Arab el-Rashaydeh and el-Ka'abnah resided in the place for what it has of abundant pastures for herd grazing by which they make living.
It should be also mentioned that the village has been undergoing frequent expelling acts, agricultural lands violation and demolitions, especially in the area of Arab el-Rashaydeh. Residents of the area have been deprived from their simplest rights to electricity and water. Noteworthy, water is only provided by tanks with a cost of 15 INS for the m3 which is relatively high for their standards.
About the village:
Fasayil is 23 km north of Jericho and its built-up area is 194 dunums only. It has a population of 1132 (according to Palestinian Central Bureau of Statistics in 2010). It is surrounded by a number of illegal Israeli colonies that limit the expansion of the village and deprive its inhabitants from having a normal life.
From the north, Fasayil is surrounded by colonies of Yafit and Pezael (Fezael), Tomer and Gilgal and Netiv Hagedud from the south in addition to a bypass that links the northern colonies with the southern ones.
Prepared by
The Land Research Center
LRC