Demolishing a mosque and a number of agricultural and residential structures in Khirbet al Taweel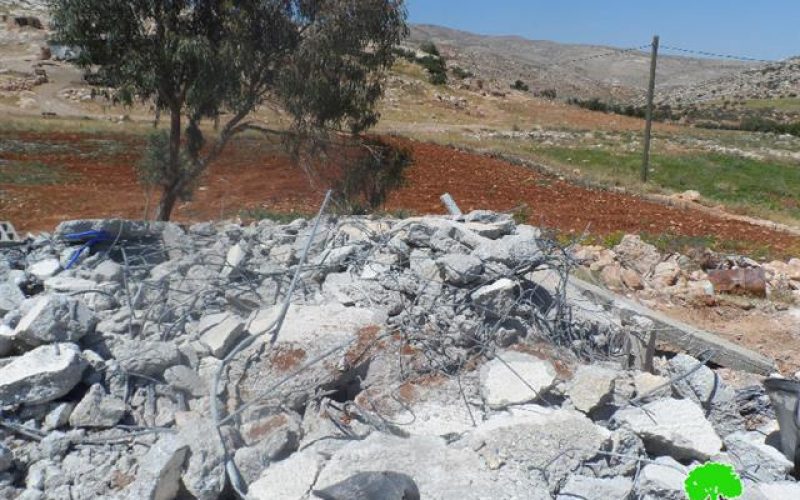 Violation: Leveling structures
Date: 29/04/2014
Perpetrators: The Israeli occupation army
Victims: Three Palestinian families consisting of 27 people including 9 children
Location: Khirbet al Taweel- Nablus governorate
Details:
On Tuesday, April 29, 2014, a large force of the Israeli army riding 6 military bulldozers raided Khirbet al Taweel, east of Aqraba in Nablus.
According to witnesses, the Israeli army broke into Khirbet al Taweel at 2:30 a.m. where they embarked on evicting people from their houses without giving any consideration to the children and women who were sent to stand in the open air in a chilly weather. At the same time, the bulldozers began leveling a number of residential structures, barns and reservoirs. That large-scale demolition operation affected 3 Bedouin families consisting of 27 members, 9 of whom are children, all rendered homeless without having the opportunity to salvage any of their assets.
Within the same context, the Mosque of Khirbet Taweel that was built in 2006 to be a worship place was targeted by a stop-work order issued by the Israeli Planning and Construction Committee in the summer of 2012 under the pretext of unlicensed construction. The order was renewed in January 2014 where the village council embarked on obtaining a building permit for the mosque. A request that was rejected by the Israeli occupation. The mosque got demolition as a result; an action considered a violation to all international laws that call for the freedom of worship and religion.
However, the Israeli occupation does not pay any respect to all these considerations and carries on with demolishing houses, displacing people, desecrating and destroying Islamic and Christian sanctuaries.
Picture 1+2: The mosque before demolition
Pictures 3-4: The wreaks of the mosque after being demolished
The table gives information about the last damage inflicted on people of Khirbet al Taweel:
Affected citizen

No. of structures

Area

Children

Cattle

Structure

Picture

Osama Bani Fadel
(10 members)

2

90m2

4

140

House built with cement blocks

100m3

Water pool

Muhammad Bani Fadel

(7 members)

4

60m2

4

200

House built with cement blocks

Anwar Bani Fadel (10 members)

160m2

5

200

House built with cement blocks

140m2

Barn

100m3

Water pool

3 solar cells

Khirbet al Taweel Mosque

3

60m2

Mosque

20m2

Lavatories

80m3

Water pool

Total

9

9

540

3 houses+ 2 pools+ 1 barn+ 3 solar cells+ mosque
*Source: Field Research- Monitoring Israeli Violations Team- Land Research Centre (LRC).
Khirbet al Taweel that follows Aqraba town is inhabited by settled civilian residents and not nomads. There are 27 families comprising 168 people who live in Khirbet al Taweel lands that they inherit from their ancestors.
Though al Taweel is 17, 000 dunums in area, only 2,000 dunums is used by the residents. The rest got confiscated for the benefit of Gettit, Maale Efrayim, and Itamar colonies. Let alone that most of al Taweel lands became Israeli-declared closed military zones.
Prepared by
The Land Research Center
LRC