Destroying 12 olive trees in Ras Karkar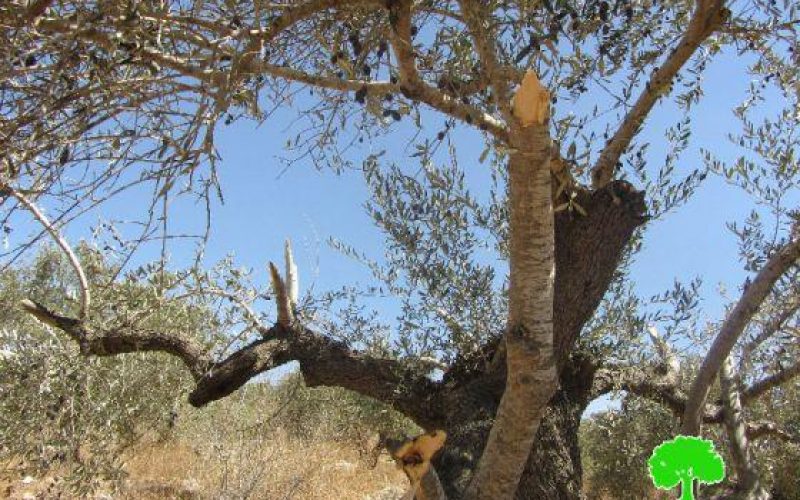 Violation: Cutting down 12 olive trees
Date: 07/10/2013
Location: Ras Karkar- Ramallah governorate
Perpetrators: Colonists of Talmon
Victims: Azmi Samhan
Details:
Ras Karkar, north east of Ramallah, witnessed a new wave of attacks during the olive harvest season which is a real festival for Palestinians but a real opportunity to attack for colonists.
'Talmon' colony is founded on Ras Karkar lands. On 07/10/2013, colonists raided Ras Karkar where they cut down olive trees using sharp tools. Their act of violence broke branches of 12 olive trees aged over 150 years. The trees belong to a farmer named Azi Samhan (38 years old).
It is worth mentioning that the location of the attack is already considered a closed military zone where Palestinians are not even allowed to approach unless with prior coordination with the Israeli occupation authorities and during specific times like olive harvest season.
Ras Karkar: A target for the Israeli colonization
Colonization and land confiscation are considered the village's most prominent problems. The expansion of the nearby colonies that surround Ras Karkar from the north and east poses a threat to agricultural lands. There is also a bypass that crosses through the village lands and surrounds it from the southern and eastern side.
The Israeli colonies have devoured more than 70 % of the village lands that are either confiscated and used for building colonies or closed for being adjacent to colonies. Thus, the village is deprived from its most important source of income: Agriculture.