Writing Offensive Slogans and Attacking 3 Palestinian Vehicles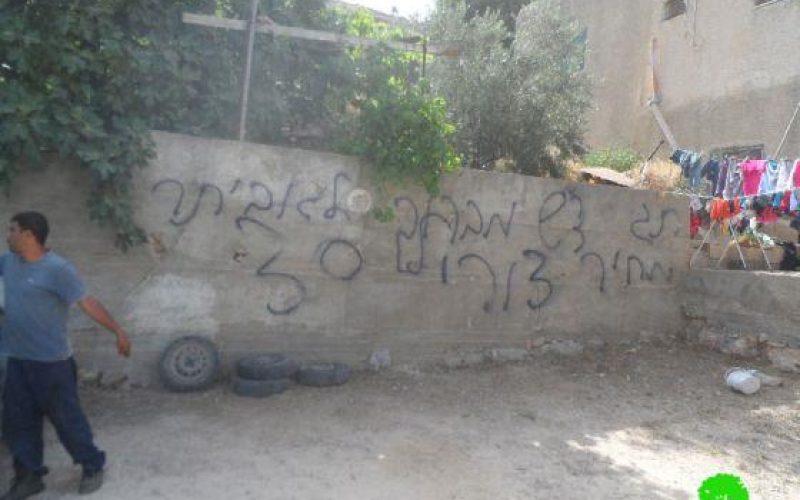 Violation: Price-tag groups write wall graffiti that encourages discrimination and attack cars belonging to Palestinians

Location: Rantes and Betlo villages in Ramallah governorate

Date: 30/05/2013

Victims: 3 Palestinian families

Details:
In the memory of a murdered colonist who was killed on 30/04/2013 at Za'tara checkpoint , a number of radical colonists known as a "price tag" group wrote offensive slogans on the walls of a school in Rantees village, north of Ramallah. One of these slogans read "30 Laminar" in reference to the name of the murdered colonist.
In addition, some colonists burnt two cars using petrol. The cars belong to two citizens from Rantees village and they were partially damaged.
To the east north of Ramallah in Betlo village, colonists punctured the wheels of a car parking on a road near the village entrance. Colonists also wrote offensive slogans in Betlo calling for taking revenge from Arabs the same night they attacked the cars in Rantees.
The attack was in synchronization with another attack where colonists burnt 7 other vehicles in Naja and Zbeedat villages north of Jericho in addition to writing offensive slogans calling for killing Arabs.
The table shows general information about the targeted cars in Rantees and Betlo villages:
*Source: Research field- Dept. of Israeli Violation Inspection- LRC
The price tag groups have carried out many attacks on Palestinian countryside areas and villages. They are quite active in the north of West Bank where they attack human beings, animals, trees and even places of worship. They are backed up by the Israeli occupation army that encourages more hatred and radicalization.