SIsraeli settlers set two cars ablaze and wrote offensive slogans on houses walls in Deir Jarir village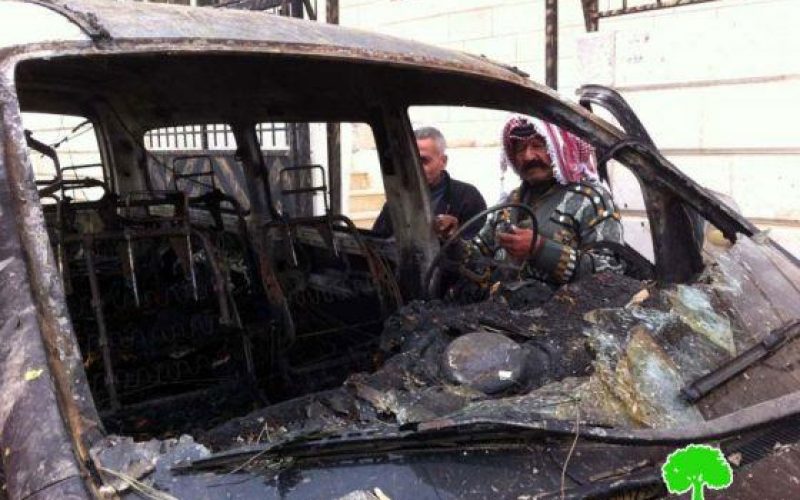 Violation: setting two cars ablaze and writing offensive slogans on houses walls.
Location: Deir Jrer, Ramallah.
Date: February 5, 2013.
Perpetrators: colonists of Ufra.
Victim: Mohammad Ma'ali.
Details:
Colonists attacks against Palestinians and their properties have significantly increased in recent months; most of the attacks were carried out by a group of colonists with the name 'Payback' which has been responsible for numerous attacks all around the West Bank.
On February 5, 2013, members of 'Payback' broke into Deir Jrer village before setting a 1999 Hyundai H1 and a 2008 Volkswagen Polo alight; both cars are property of Mohammad Ma'ali, 58. The colonists also wrote offensive and racist slogans on the walls of Mohammad's residence. The owner said: 'I was awakened by the sound of the blazing flames; I rushed outside to see a red car filled with colonists drifting away. I was concerned more about putting the fire down rather than chasing them.'
It is worthy to mention that the Israeli Police and Army provide the colonists with protection during such attacks and when clashes between the colonists and the victims erupt, giving the green light to carry out more attacks.
'Payback' has been responsible for the torching and destruction of mosques, residences, and farms and have committed numerous attacks against Palestinian individuals as well.
Deir Jarir:
It is located 13 km to the north east of Ramallah, 900 meters above sea level; it is connected the surrounding Palestinian towns and villages via a lonely main road. Its total area is 33,200 dunums, planted mostly with olives, fig, grapes, and other fruits. The village organizational plan includes 817 dunums while it is inhabited by around 5000 people.