A New Demolition Campaign in Al Isawiyya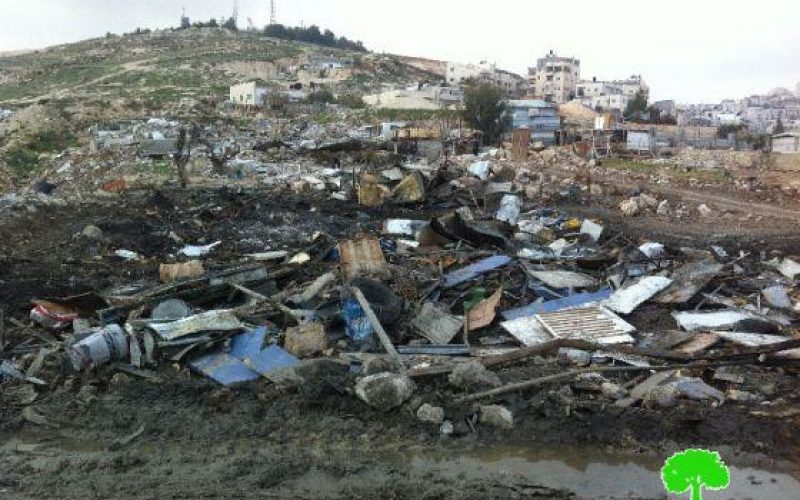 On the first day of 2013, Israeli dozers embarked on a large-scale demolition and leveling campaign in Al Isawiyya. At the early morning hours, a large Israeli force accompanied by dozers and trucks broke into the town of al Isawiyya before commencing the demolitions. The first target was the residence of Rafat al Isawi, the brother of Samer al Isawi, the Palestinian prisoner who has been on hunger strike for over six months. The Israeli dozers also leveled a 10-dunum farm with a barn and a stable that were completely destroyed. They also destroyed 15 dunums of agricultural lands, property of Dari and Ibead families.
Ahamd Dari, one of the victims, stated: 'the Israeli dozers leveled 15 dunums of agricultural fields which we recently planted with 50 olives and 12 apple and citrus; they also dug a huge crater in the plot rendering it difficult to replant it. They also destroyed a bower built of woods. The estimated losses were around 40,000 USD'. The Israeli Municipality in the Occupied City also demolished a junkyard, property of Alaa, Nader, and Azzam al Rishq.
Alaa al Rishq commented: 'they demolished the 25-m2-shack and confiscated a large number of equipment. They also confiscated a jackhammer, scrap metal worth around 350,000 ILS, a large balance which worth around 170,000 ILS, 7 cars, two trucks, and a container which we used as an office. They also knocked down a small hennery and killed all the birds that were in. Our losses are estimated to be somewhere around 2,000,000 ILS'.