3 Stop-work Orders in Lafjam area in Nablus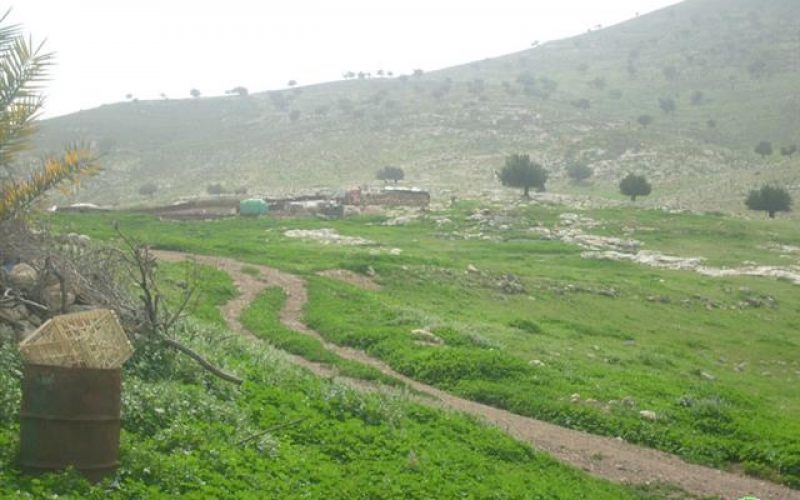 Violation: the Israeli Occupation Authorities issues 3 stop-work orders against agricultural structures.
Location: Lafjam – eastern 'Aqraba – Nablus.
Perpetrators: the so-called Regional Inspection Committee.
Date: February 2, 2012.
Details:
As part of a major Israeli campaign aiming for laying control over the Jordan Valley area and use it for colonial expansions; eventually, destroying any chances for peace. The Israeli Occupation Authorities have been targeting the Palestinian communities in the Jordan Value area in order to ethnically cleanse it.
On February 2, 2012, the Israeli Occupation so-called 'Regional Inspection Committee' handed three families in Lafjam stop-work orders against their agricultural structures, a week after the beginning of construction. The victims had previously received eviction orders for their lands in Lafjam which the Israeli claim it to be a closed 'military zone'. Table 1: victims:
Victim

Family members

Children

Notified structures

picture

Residence

Shack

Mohammad abu Hammad

8

4

1

1

Wasfi abu Hammad

9

5

1

1

Ghallab abu Hammad

9

7

1

2

Total

26

16

3

4

–
More than 500 people reside in Lafjam attracted by the availability and fertility of agricultural lands. Sadly, the area has become a target for the Israeli colonization greed which endangers it.
At Tawil and Lafjam total area is around 30,000 dunums, including 8,000 dunums of arid lands unsuitable for cultivation as well as 15,000 dunums that are used for seasonal crops and 7000 dunums that have been captured by the Israelis.
The area is subject to colonial activity presented in Jetit colony (established in 1973; its total area is 1720 dunums and inhabited by 191 colonists), Ma'ale Afraym (established in 1970; its total area is 4778 dunums and inhabited by 1423 colonists), Itmar colony (established in 1984; its total area is 7189 dunums and inhabited by 651 colonists).
It's worth mentioning that At Tawil is inhabited by around 500 Palestinians who depend largely on agriculture and herding in their living.