Setting Wheat Fields Ablaze in Far'ata and Madama – Nablus Governorate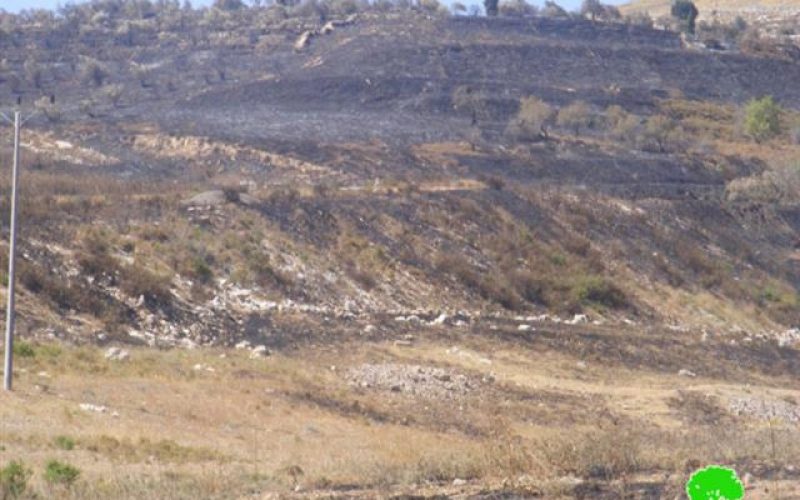 Violation: setting 15 dunums ablaze.
Perpetrators: Yizhar and Gilad zohar colonists.
Date: June 3, 2011.
Details:
It seems that the wave of revolutions in the Arab World has been affecting the already hysterical right wing, radical Israeli Government. This has been influencing Israeli colonists all around the West Bank who, apparently, feel that they are above any laws, rules, or regulations and can do whatever they want through the systematic attacks on Palestinian fields and attacking sacred places all around the West Bank.
The colonists increased their attacks during the wheat harvest season by attacking wheat fields and burning them. It seems that the attacks on the wheat fields are becoming seasonal; not a year passes without recording similar attacks. On June 3, 2011, a group of colonists attacked a wheat field in Madama. They set a 3-dunum-field, property of Hasan Zyada (52), alight.
The colonists took advantage of the wind and the complete dryness of the wheat to impose maximum damage. To the east of Qalqiliya exists Gilad Zohar colony; the Palestinians link the name of the colony with terror, inhumanity, and destruction. In the evening of June 3, 2011, a group of Gilad Zohar colonists sneaked into fields in Far'ata. They set 12 dunums alight burning them completely. The fields were located in parcel 15, also known as Wadi al Shami.
Picture1-2: scorched fields
Most of the damaged fields are used for planting various types of cereals; however, the establishment of Gilad Zohar rendered it diificult for Palestinians to continue. Palestinians, nowadays, avoid going near the colony because of the colonists day-to-day aggressions.
Sabotage, stealing, beating, and other aggressions has been recorded intensively during the past 5 years. It must be pointed that the eastern and southern country side of Nablus is facing the most vicious attack. The colonists are trying to strangle the Palestinians in every aspect of their lives, especially their main source of living, agriculture.