Teqou Village between the Civil Administration Hammer and the Settlements Anvil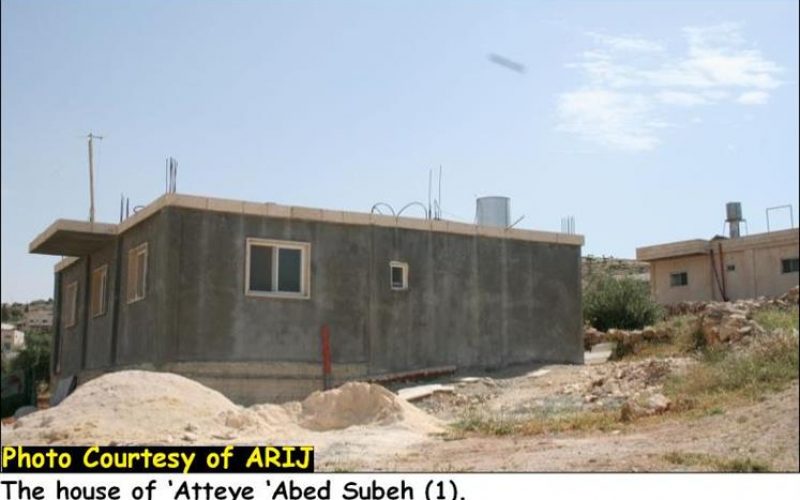 Some 12 Km southeast of Bethlehem city lays Teqou village with a population exceeding 6500 Palestinians (PCBS-2005). The village stands as a part of Bethlehem eastern rural area that has been subject of Israeli colonization activities for decades. Today, Israeli settlements (Tekoa, Nekodim, Kfar El-Dad, etc) outposts and bypass roads bind Teqou and the rest of Bethlehem eastern rural villages from exploiting their lands that lay east of them for their livelihood or to expand the villages' built-up area as their eastern property lands were clinched to realize Israeli plans in that area over the past decades. The following Map shows Teqou location and surrounding Israeli settlements.
The Ongoing Israeli Aggressions against Teqou Village:
Over the years, Israel has adopted a firm policy with regard to building policies in the occupied territory with particular emphasis on the rural areas, which are usually target by the Israeli colonization activities to build settlements, outpost and to construct bypass roads for Israeli settler to use.
To that end, Israel has made sure to confine Palestinians within the defined master plans of their towns and villages, which over the years became insufficient to meet the increasing population numbers. Furthermore, Israel took all necessary steps to frustrate any attempt by Palestinian to redraw their towns and villages master plans particularly in rural area and Jerusalem. Israel went even further than that to restrict use on agricultural lands that lays outside the defined master plans of the towns and villages; as a preliminary step toward confiscating these lands under security pretext; before handing them to the Israeli settlers for colonization activities.
As many Palestinian villages and towns, Teqou suffers on a daily basis the ramifications of the Israeli civil administration policy, which were acted repeatedly against the residents and their properties; the latest of which was on April 23, 2006; that is when four residents of Teqou were served with Israeli military order to stop construction work on four houses under the pretext of 'building without licenses' since the houses in question are located in Area 'C', which falls utterly under Israel civil administration. Generally, an Israeli military order to halt construction is issued prior to a not far behind demolishing order, which is issued later on with a hefty fine. The following table shows those Palestinians from Teqou village served with military order to halt construction: See Table 1
Table 1: Houses received demolition warnings
Name of

House Owner

Year Construction

Started

Area of

Construction

Cost of

Construction

To Date in US$

Demolishing Military Order Number

Pretext used to halt Construction

Ateyya Abed Subeh *

2002

155 M2

37,800

122532

Without Building license

Ateyya Abed Subeh *

2001

190 M2

55,500

122533

Without Building license

Ali Ahmad Hussein Suleiman *

2002

120 M2

33,300

122534

Without Building license

Habes Ibrahim Suleiman *

2002

130 M2

17,700

122535

Without Building license
*: status of the house – Under construction
Source: Teqou Village Council – April 2006
The following pictures are of the targeted houses in Teqou village: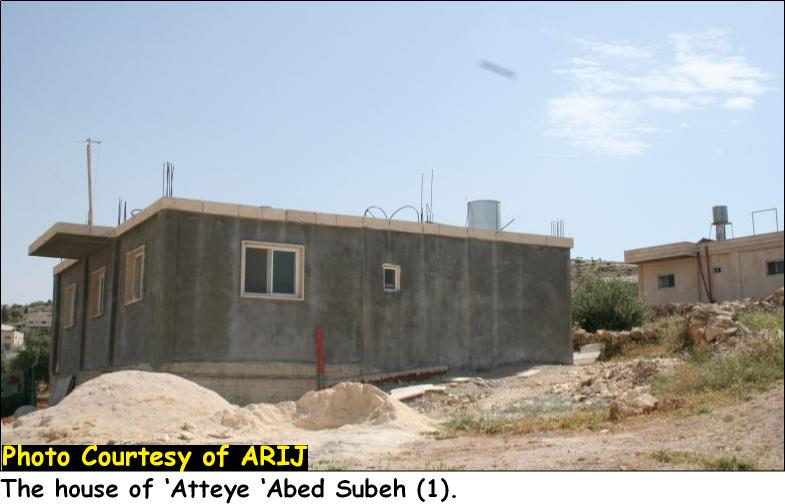 House of Ateyya Abed Subeh (1)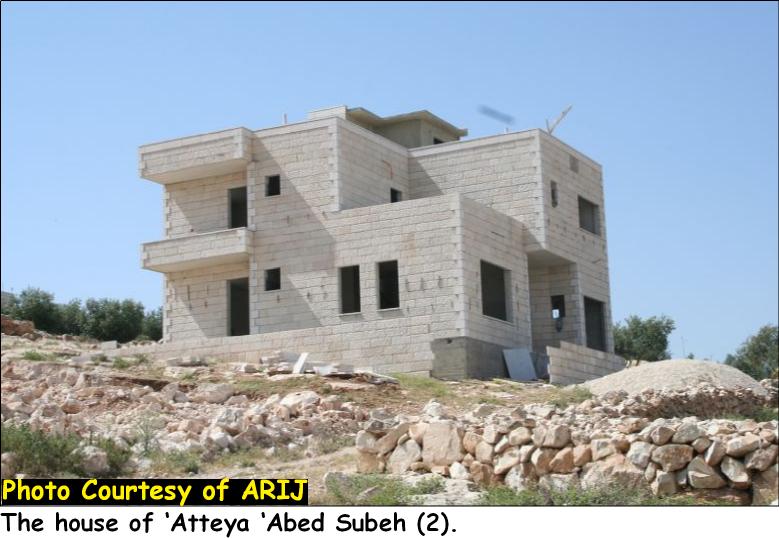 House of Ateyya Abed Subeh (2)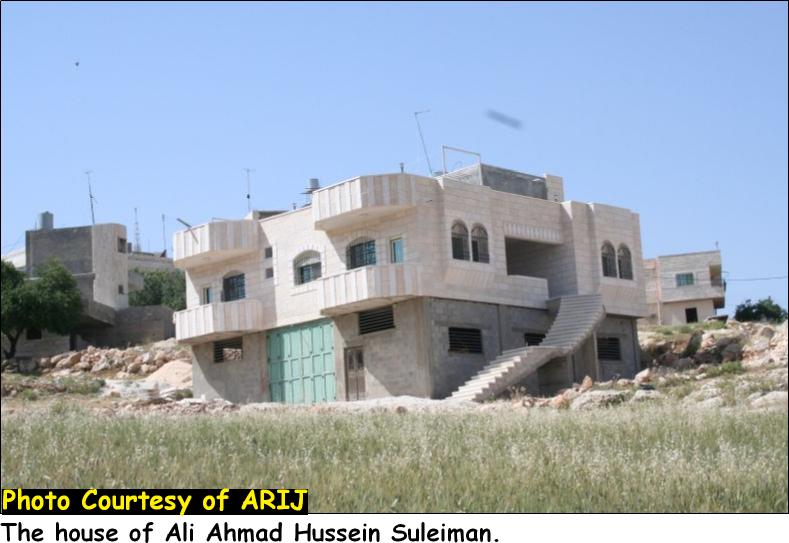 House of Ali Ahmad Hussein Suleiman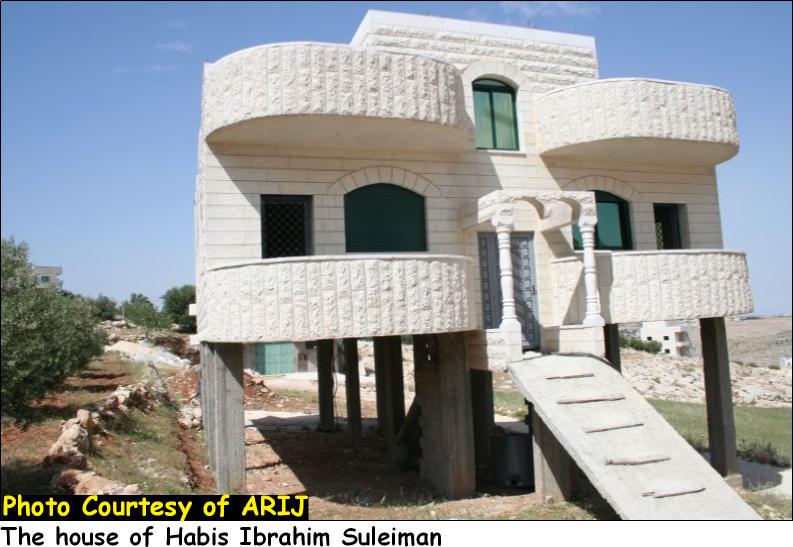 House of Habes Ibrahim Suleiman
The Planned Israeli Bypass road in Teqou Village:
Few years back the Israeli civil administration planned to construct an Israeli bypass road to link the Gush Etzion settlements block at Bethlehem western rural area with the Israeli settlements located in the eastern rural area (Tekoa, Nekodim, Kfar El-Dad) and connect the link with Zatara bypass road number 80 originating from the southeastern parts of the West Bank to occupied Jerusalem and Israel. See Map 1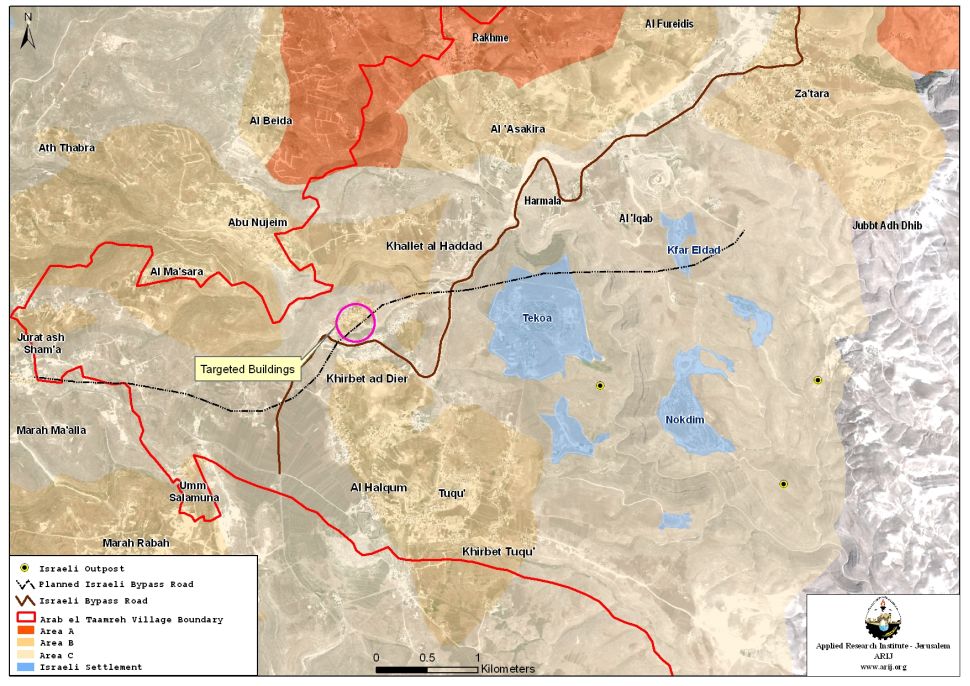 The Gush Etzion-Tekoa bypass road was set to penetrate the lands of Teqou where the targeted houses now exist. However, the Israeli civil administration has rerouted the bypass road, which exist today far off the targeted Palestinian houses, which makes the Israeli pretext to halt and maybe at a later stage demolish the houses; void.
How far does the Israeli Civil Administration Jurisdictions Goes?
As an occupation; Israel has no jurisdiction with regard to building permits, then again; being an occupation; Israel has jurisdiction to control building license, demolish any resident and confiscate any land, etc; as long as any procedure the occupation adopt is, being carried out for security reasons. However, during its past 39 years of occupation; Israel has manipulated that right only to allocate lands to Israeli settlers, build bypass roads and decelerate Palestinian communities' development; particularly in rural areas; thus; hundreds of thousands of Dunums were confiscated to build settlements and bypass roads and thousands of Palestinian houses were demolished and thousands other remain under demolishing threat.
The 1995 Oslo Accord between the Palestinian Liberation Organization and Israel classified the West Bank territory to three dominion areas: A, B & C; as to the following jurisdictions:
| | |
| --- | --- |
| Area 'A' | Palestinians have civil administration and security control |
| Area 'B' | Palestinian have civil administration control; while security falls to Israeli control |
| Area 'C' | The area falls completely under Israeli jurisdiction |
This arrangement worked systematically with the Israeli plans to confiscate more Palestinian lands and control development of Palestinian communities in the places where Israel have interests the most; the rural areas of the West Bank; where they can carry out their colonization plans under security pretext as they have been doing through out their ongoing occupation.
To Conclude:
Throughout its occupation of the Palestinian territory, Israel repeatedly and unreservedly has violated the international laws; particularly those of relation to property destruction. Article 53 of the Fourth Geneva Convention stipulates that the destruction of property by the occupying state is forbidden, 'except where such destruction is rendered absolutely necessary by military operations.' Article 147 of the Convention also stipulates that, 'extensive destruction and appropriation of property, not justified by military necessity and carried out unlawfully and wantonly' is a grave breach of the Convention. Since 1967, the Israeli occupation demolished thousands of Palestinian homes supposedly for being built without license permits. However, the Israeli civil administration has made sure to complicate all procedures the Palestinians have to go through to get building permits, which in most case were refused under security pretext; particularly in the rural areas. under International law, the occupation has a temporary governing status over the territory it occupy, under which it is obligated to safeguard the rights of the occupied population during the temporary period in which the occupation is maintained. Among these rights is the right of those occupied (Palestinians) to build homes on their own lands â?? a right violated systematically by the Israeli occupation over nearly the past four decades.
References:
Palestinian Central Bureau ofStatistics, (n.d.). Projected mid -year population for Bethlehem governorate by locality 2004- 2006, from Demographic statistics Web site: http://www.pcbs.gov.ps/Portals/_pcbs/populati/pop10.aspx. .
Prepared by:
The Applied Research Institute – Jerusalem