Inhabitants of 'Ein Al Juweza village seeking refugee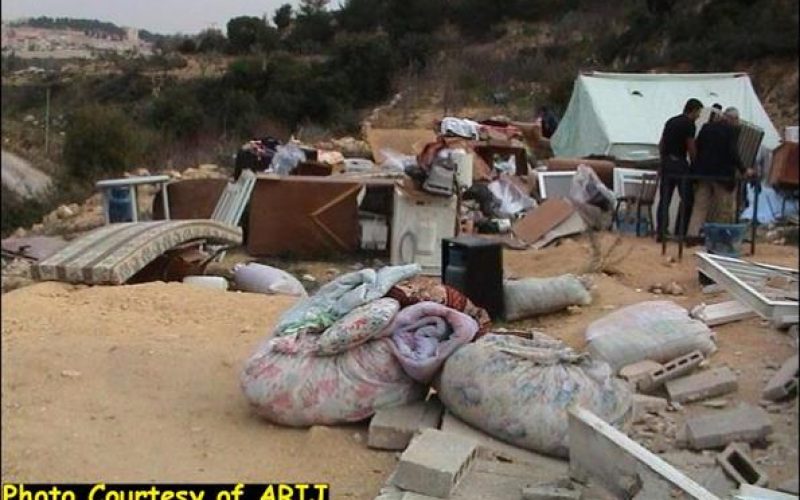 At 1 O'clock, the 23rd of January, 2006, the Israeli army staged into the neighborhood of 'Ein Al Juweza, in al Walajeh village, northwest of Bethlehem city and demolished two Palestinian houses under the pretext of being unlicensed. The two houses belong to Monther Mahmoud Abdel Qader Salem and Mahmoud Ahmad Isma'il Al A'raj.
The status of Al Walajeh Village
Al Walajeh village is situated to the southwest of Jerusalem city and is 8.5 km away from it and reaches up to 750 meter above sea level. The village's lands are mountainous and are cultivated with olive, figs and almond trees. Before the 1948 war, the village spread over an area of 17.793 km² and its boundaries extended west and reached till beyond the Armistice Line Green Line. The village of Al Walaja is bordered by Battir and Husan villages from the southwest, Sharafat village, Gilo settlement (est. in 1971) and Giv'at Hamatos (est. in 1991) from the east and northeast and Har Gilo settlement (est. in 1972) from the southeast.
Following the 1967 war, the Israeli Municipality of Jerusalem expanded its administrative boundaries to include 18.048 km² of Bethlehem Governorate to its new borders.
Al Walajeh village was among the villages that witnessed the loss of its lands for the new and Illegal Jerusalem Municipality boundaries and is threatened today to lose more lands for the construction of the Segregation Wall on its lands. Today, the village spreads over an area of 4.403 km² and is a home for 1644 inhabitants (the Palestinian Central Bureau of statistics â?? Population projection 2005). â?? Population projection 2005).
Out of the total area of Al Walajeh village boundary (4.403 km²), an area of 2.095 km² lies within the Jerusalem Municipal boundaries, in which 'Ein Al Juweza neighborhood is situated.
â??Ein Al Juweza Neighborhood
Ein Al Juweza neighborhood is part of Al Walajeh village and lies within the redrawn Jerusalem Municipality boundaries of 1967. The neighborhood is comprised of about 70 houses, most built without licenses. The procedure of getting a license according to the residents is difficult due to the critical location of their neighborhood, within Jerusalem Municipality Border. Inhabitants must obtain a building permit from the Municipality if they want to build on a land that falls within its illegal redrawn boundaries, but it is almost impossible for them to obtain these permits because, according to Municipality, residents of 'Ein Al Juweza live illegally on the land since they hold West Bank IDs. Therefore, inhabitants are effectively compelled to build without a permit because they have no other choice to provide shelter for their families although theyâ??ve been living on this piece of land for decades.
The houses of Monther Salem and Mahmoud Al Aâ??raj are typical examples to what the Israeli Municipality of Jerusalem is practicing against the Palestinian people. The house of Munther Salem is 120 m² area and houses 5 family members. The cost of the house as estimated by Mr. Monther is 75,000 NIS (about $ US 16,700) and it was built in 2001. Mr. Monther used to work as a constructional worker inside Israel; however, following the eruption of the second Intifada in September 2000, Mr. Munther lost his job inside Israel and has been unemployed since then. He states: 'I received a notification of intent to demolish the house after I moved with my family to live in the house in 2001. I appealed to the court through the lawyer in an attempt to cancel the demolition warning to start working on issuing a license for the house. The Court rejected my appeal and instead, has asked me to attend the first court session which was scheduled the next month. The session was postponed several times until a court session was scheduled in 2003. The court has imposed a penalty of 75,000 NIS ($ US 16,666) and threatened of sending me to jail if I don't pay the penalty. The fact that I lost my job and currently unemployed had prevented me from committing myself to the penalty installments and so I was sent to jail for one month, after which I was released because there was no use of keeping me inside. My story is similar to other previous stories that took place in the previous years in the neighborhood and for the same reason.' See Photo 1 & Photo 2
As for the house of Mahmoud Ahmad Isma'il Al A'raj, who is currently living in Jerusalem, it has an area of 95 m² and houses the family of Na'ema Fakhri Abdullah Takrori, 6 family members who rented the house in year 2002 and moved to live in it. The Takrori family lost their son in year 2003 when an Israeli soldier shot him in the head. He was the only supporter for the family since the father suffers from a sickness and has already undergone two surgeries. Naâ??ema has also two children who suffer from eye disease and are incapable of supporting themselves. The family lost their only shelter and are now seeking refugee somewhere else. See Photo 3 & Photo 4
During the last couple of years, 2004 & 2005, the Israeli army handed out 45 houses in 'Ein Al Juweza neighborhood military notifications to demolish their house and under the same pretext. 18 other houses were also demolished in the neighborhood during the previous years and for the same reason. The whole neighborhood is threatened of vanishing if the Jerusalem Municipality court goes on with its demolition campaign against residents of 'Ein Al Juweza.
The Segregation Wall plan justifies the Israeli House demolition campaign in 'Ein Al Juweza
The village of Al Walajeh along with the nearby Palestinian villages Battir, Husan, Nahalin and Wad-Fukin, Khallet 'Afaneh, Khallet Al Balluta and Khallet Beit Sakaria comprise the Bethlehem Western Rural area.
According to the Israeli Segregation Wall plan published on the IDF website on February 20, 2005, Al Walajeh village will be sealed off from three directions, east, west and north where a total of 1599 dunums of lands will be segregated behind the Wall; while the remaining 2804 dunums of Al-Walajah village lands will fall within the enclave created by the Segregation Wall under Israeli jurisdiction but on the Palestinian side of the 1949 Armistice Line west of Bethlehem.
The Segregation Wall route will cut Al Walajeh village lands from three directions where part of 'Ein Al Juweza neighborhood (along with a number of Palestinian houses) will become isolated north of the Wall (north of Al Walajeh village) and annexed to Jerusalem. This part of the neighborhood will be totally cut off from the rest of â??Ein Al Juweza and Al Walajeh village lands. See Map of Al Walajeh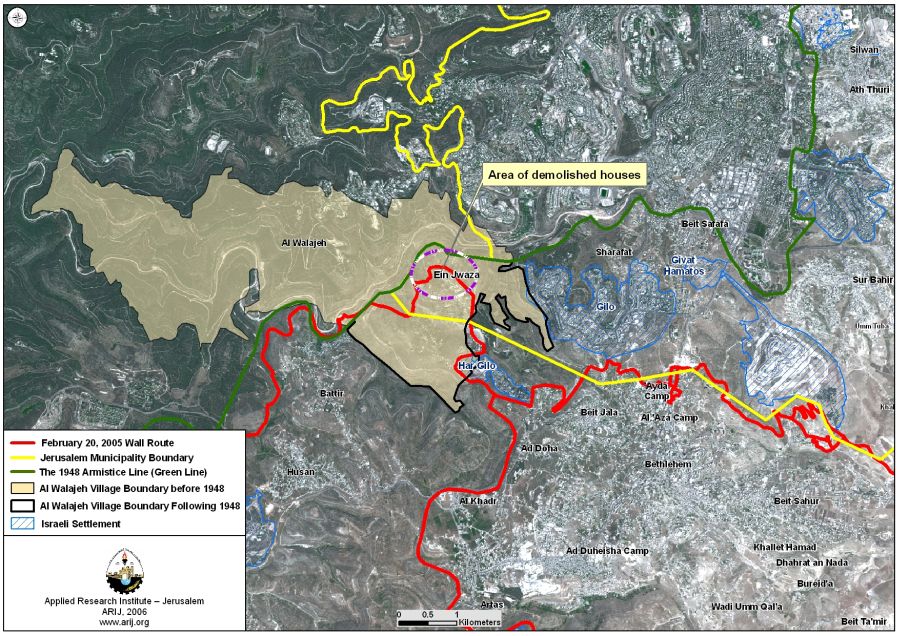 The fact that 'Ein Al Juweza residents hold West Bank ID cards and continue living on a piece of land that was classified to fall within Jerusalem Municipality renders them as â??illegal residentsâ?? of the city, although these residents didnâ??t move from their place rather the municipal boundaries encroached to grab their lands and drive them out of it. This twisted â??logicâ?? will give the Israeli Jerusalem Municipality the green light to continue with its demolition policy under the pretext of 'Unlicensed houses' while the real intent behind this demolition campaign is far from this pretext and is ethnic cleansing.
Bypass Roads in Al Walajeh Village â?? Bypass Road 436
In addition, Al Walajeh village is bordered from its southern direction by bypass Road number 436 which is also cutting about 0.5 km² of its lands. This road originates from Giv'at Ze'ev settlement junction west of Jerusalem city and connects with the settlements of Giv'on and Ramot Alon which lie on the same road line. The bypass road then extends southwest to penetrate Al Walajeh village lands from the west and moves eastwards to the Settlement of Har Gilo, southeast Al Walajeh village to finally connect with bypass Road number 60. Palestinians accessing this road aren't allowed to travel if they don't have special permits to use it.
Conclusion
The Israeli army Legal Advisor Colonel Shlomo Politus in July 2003, said thatâ?? …there are no more construction permits for Palestinians,' which means that Israeli Authorities intend not to give Palestinians building permits as to force them to leave the land while at the same time it is issuing tenders for building tens of thousands of new housing units for the Israeli settlers living in Settlements of the West Bank which were originally built on lands confiscated from Palestinians throughout the West Bank and in blatant violation of International laws and Geneva Conventions.
The Israeli Policy of house demolition flagrantly violates all international laws and human Conventions, which only allows the demolition of houses when necessary for a military operation:
Hague Convention IV (18 October 1907): Convention Respecting the Laws and Customs of War on Land: Article (23): 'To destroy or seize the enemy's property, unless such destruction or seizure be imperatively demanded by the necessities of war;'

Convention (IV) relative to the Protection of Civilian Persons in Time of War. Geneva, 12 August 1949, ARTICLE 53: Any destruction by the Occupying Power of real or personal property belonging individually or collectively to private persons, or to the State, or to other public authorities, or to social or cooperative organizations, is prohibited, except where such destruction is rendered absolutely necessary by military operations.
References
Prepared by:
The Applied Research Institute – Jerusalem