House demolition campaign in Al-Walaja village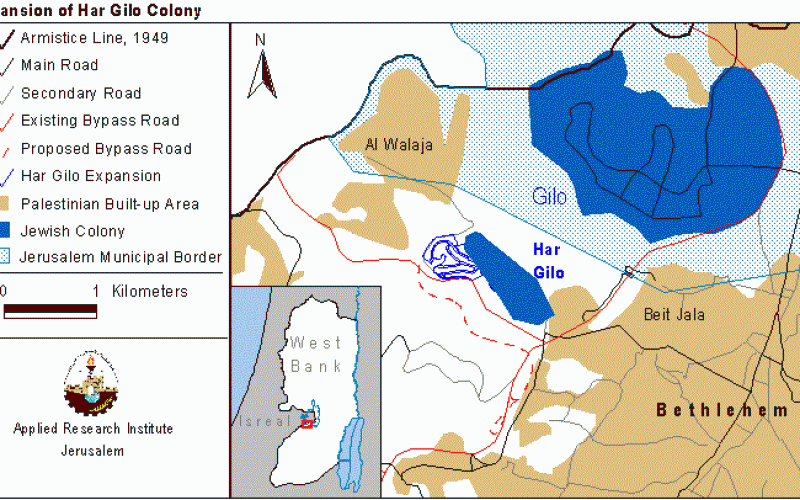 Al Walaja, a Palestinian village with about 1,500 inhabitants, is located 6 kilometres to the northwest of Bethlehem and 10 kilometres southeast of Jerusalem. Part the village lands are located to the west of the 1949 Armistice Line(Green Line). The village was completely destroyed in the 1948 war and the villagers rebuilt a new village on the part located east of the Green Line . In 1967 Israel occupied the new village and the Israeli authorities included parts of the new Al Walaja to the unilaterally expanded Jerusalem borders in 1967 and have harassed the Arab inhabitants ever since. The villagers have had to endure closures, rejection of building permits, denial of basic municipal services and, most of all, the demolition of homes. Today Al Walaja is surrounded by Jewish neighbourhoods to the north and the settlements of Gilo and Har Gilo to the east. The 2 settlements are part of 22 Israeli settlements currently located on Bethlehem District lands. (see map )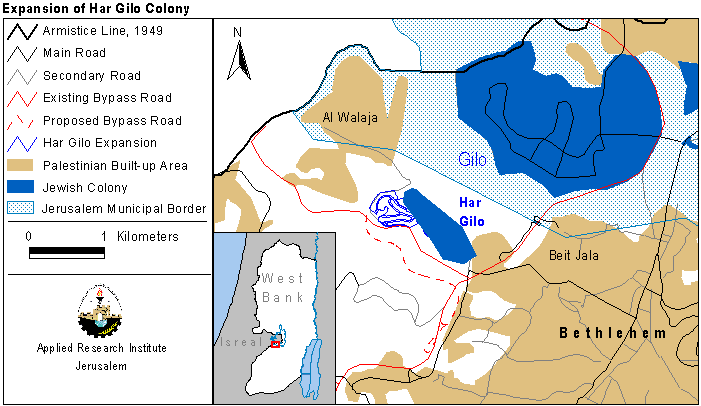 On the early morning of Thursday, 13th March 2003, Al- Walaja people woke up by hearing the sounds of bulldozers that started a house demolition process in their village. The three homes that were demolished, received military orders to stop construction 2 years ago, but ever since no military orders for demolition were received as a final warning by the owners. Another 6 homes are threatened to have the same destiny. ( see copie of military order to stop construction.)
The 3 demolished homes are belonging to: Mouhamad Hussein Mussalam Abu El Tein, Hussein Nasser Abu El Tein and Nabil Abu El Tein. Each home is a 3 story building where two of them shelters 18 people. The home of Hussein Abu El Tein which was uninhabited was supposed to shelter around 8 to 10 people of his family. Each flat of these buildings is about 180 m2 which means 540 m2 of living space for each home. (See photos).
The other homes that are seriously threatened to be demolished are belonging to:
1. The village council of Al-Walaja
2. Jamal Quntar
3. 'Awni Shehada
4. Mouhamad Yousef Odeh
5. Ghassan Abdel Jalil
6. Khaled Mousa Abu El Tein
The official reason for demolition is the building without a permit in area ''C'' which is under full Israeli control. Even though, the owners of homes sent their papers to the Israeli authorities in Bet El, so as to get the corresponding permits. However it seems that the Israelis are not interested to have Palestinian residents in that area. Al Walaja has been a victim of frequent violations by the Israeli authorities; since half of the village was included within the unilaterally expanded boundaries of Jerusalem Municipality, the Israeli authorities have been keen to suppress the residents of the village. Travel restrictions, house demolitions, and land confiscations are all part of an attempt at making life as hard as possible on the Palestinians.
Prepared by:
The Applied Research Institute – Jerusalem